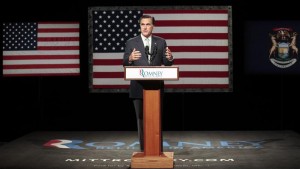 Republican presidential candidate Mitt Romney apologized on Thursday for what he called high school pranks that may have hurt others, after a report that he and other students at a Michigan school bullied a student who was presumed to be gay.
"I did some dumb things and if anybody was hurt by that or offended … obviously, I apologize," Romney said in response to a Washington Post story that detailed a 1965 incident in which Romney pinned down a fellow student and cut his hair.
The report about Romney's days as a prep school student whose pranks sometimes crossed the line into meanness toward presumed gay classmates came a day after Democratic President Barack Obama declared that he now supports same-sex marriages.
Romney and other Republicans made clear they would seek to contrast their opposition to gay marriage with Obama's stance. But that message was overrun by the Post's report, forcing Romney to try to counter the notion that he was an intolerant bully as a youth.
"I participated in a lot of high jinks and pranks during high school, and some might have gone too far," Romney said.
The Post's report raises questions about whether a presidential candidate's actions as a youth nearly a half-century ago are fair game for discussion today.
But the timing of the report was particularly poignant, coming on the heels of Obama's same-sex marriage announcement, which dominated headlines on Wednesday.
Obama has now made gay rights a focus of the presidential campaign and bullying in schools is under increasing scrutiny because of incidents such as one at Rutgers University in New Jersey, where a gay student committed suicide in 2010 after a roommate secretly spied on him with a web cam.
Democrats jumped on the story.
Brad Woodhouse, spokesman for the Democratic National Committee, tweeted a link to the Post story and peppered Romney with criticism. "One of the biggest conversations we're having in this country is about the bullying of kids in school," Woodhouse tweeted. "Romney was a bully as an 18 year old."
STUDENT PINNED DOWN
The Post interviewed several former classmates of Romney who recalled that he orchestrated the incident in which the presumed gay student, John Lauber, was tackled and pinned to the ground by a group of students, who wanted to cut the student's bleached-blond hair.
"As Lauber, his eyes filling with tears, screamed for help, Romney repeatedly clipped his hair with a pair of scissors," the Post reported.
Romney promptly went on a conservative talk radio show hosted by Fox News' Brian Kilmeade to explain his side of the story.
"You just say to yourself that, back in high school, I did some dumb things. … But overall, high school years were a long time ago and I'm glad I've got some good friends from those years," Romney said.
Asked about the incident involving Lauber – who later came out as gay and died of liver cancer in 2004 – Romney said: "I don't remember that incident and I'll tell you I certainly don't believe that I – I can't speak for other people, of course – thought the fellow was homosexual.
"That was the furthest thing from my mind back in the 1960s, so that was not the case," Romney said.
'STRONG FEELINGS ON BOTH SIDES'
As Romney wrestled with the bullying issue, his campaign said it plans to emphasize Obama's support of gay marriage to try to attract conservative and independent voters in the November 6 election.
Senior Romney campaign adviser Ed Gillespie said Republicans will cite gay marriage as a key difference between Romney and the Democratic incumbent.
"It's an important issue for people and it engenders strong feelings on both sides," Gillespie told MSNBC. "I think it's important to be respectful in how we talk about our differences, but the fact is that's a significant difference in November."
Obama shifted to support gay marriage after two years in which he said his position was "evolving" on an issue. His move could energize liberals who have not shown the passion for him that they did in electing him America's first African-American president in 2008.
On the right, Romney has struggled to convince conservatives that he is truly one of them, and the gay marriage issue may play to his benefit on that front.
By stating his belief that marriage should be between a man and a woman, Romney could stir some enthusiasm for his candidacy among social conservatives, analysts said.
Polls show Americans fairly evenly divided on the issue, and North Carolina on Tuesday became the 30th state to pass a constitutional amendment banning gay marriage.
The White House made clear that Obama believes Romney, who supports a constitutional amendment that marriage should only be between a man and a woman, is vulnerable on the issue.
"Governor Romney is for an amendment to the U.S. Constitution that would enshrine discrimination into our founding legal document," White House spokesman Jay Carney told reporters. "The president thinks that's wrong."
By Steve Holland
WASHINGTON (Reuters) – (Additional reporting by Sam Youngman in Omaha; Editing by David Lindsey and Christopher Wilson)