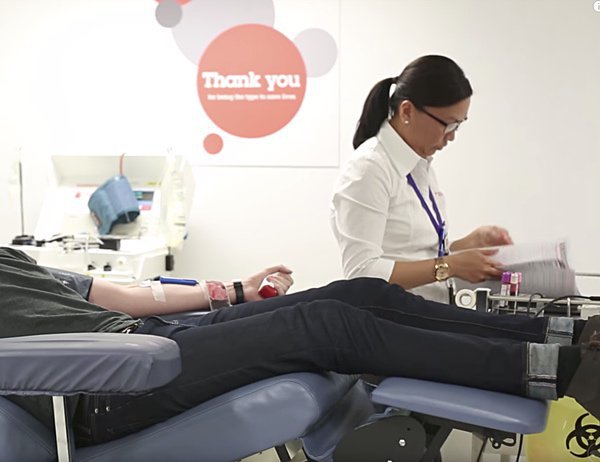 The terrible massacre in Las Vegas is drawing attention to the discriminatory ban on gay blood donations still in place in the United States.

Following Sunday night's shooting which took the lives of 59 so far, and injured 527 others, the Red Cross made an appeal for blood donations.

But gay men can only donate blood after waiting 12 months from their last sexual contact with another man.

And people are tweeting about it:

How is it STILL illegal for gays to donate blood??!! I want to donate and I'm not allowed.

— Lance Bass (@LanceBass) October 3, 2017

I would love to show up immediately, but as a gay man, my blood is considered no good to donate. It's shameful and pathetic pic.twitter.com/jLlEW2GHrH

— Justin (@DTPJustin) October 2, 2017

rly wish i could donate my gay blood

— elijah daniel (@elijahdaniel) October 2, 2017

It infuriates me that gay & bisexual men can be turned away from donating blood in Las Vegas because of the @US_FDA's discriminatory policy.

— Shane Bitney Crone (@ShaneBitney) October 2, 2017

Also, it's 2017 and gay men still can't donate blood.

— Robbie Rozelle (@divarobbie) October 2, 2017

I know three young, healthy friends who happen to be in Vegas right and now would love to give blood but can't because they're gay men.

— Jean Bentley (@hijean) October 2, 2017

I'd love to donate blood for Las Vegas, but as a gay man I'm *still* not allowed to do so. In 2017.

— Morgan Polikoff (@mpolikoff) October 2, 2017

Is is really that serious that y'all deny gay people…HUMAN BEINGS from donating blood? Like wtf…

— HOOD VOGUE (@kxyonn) October 2, 2017

Would love to go donate blood but I'm gay. So there's that issue, too.

— Kedzie Teller (@Kedz) October 2, 2017

holy shit i had no idea that gay men couldn't donate blood unless they haven't had sex for 12 months. that's so fucked up

— riley (@nialIsruin) October 3, 2017

So very right on and I'm gonna do all these things. Except give blood. I would but I can't. I'm a gay American. https://t.co/7hS48vENHN

— Jeffery Self (@JefferySelf) October 3, 2017

Just a reminder that I wanted to donate my O+ universal blood today for Vegas but can't bc I'm gay

— Gilbert Romero (@GilbertRomeroAZ) October 3, 2017

The post The Red Cross Needs Blood Donations in Las Vegas, But Not from Gay Men appeared first on Towleroad.
Read more from Source: The Red Cross Needs Blood Donations in Las Vegas, But Not from Gay Men – Towleroad