Justin Timberlake's Justified
CD Review by John Demetry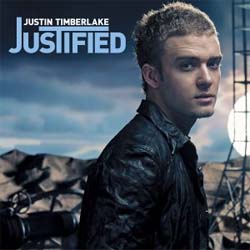 Justin Timberlake earns the title of his first solo album: Justified. And not just because it justifies the stardom, good fortune, and genuine talent that enabled this solo effort. Timberlake does something more, something unexpected: he justifies the pop record as a medium for the best kind of political discourse.

In that spirit, he opens up the track "Last Night" with the following aspiration: "I just want to enjoy my life and show this world how to care." The song continues with Timberlake's shattering recriminations to a flirtatious lover - "I don't think I'll spare your feelings" - typifying the insecurities that get in the way of achieving common dreams like happiness and love.

Timberlake's grandest examination of jealousy is "Cry Me a River." A song about faithlessness and revenge in relationships, it opens with a monk-choir - the need to transcend heartbreak. The chorale of male chants is joined by rainfall and danceable polyrhythms, recalling Aaliyah's break-up classic "I Refuse" - a standard of neo-soul-meets-hiphop to which this track lives up. The song title itself also references the famous "Cry Me a River" - made into a jazz standard by Ella Fitzgerald. Flooded with such associations, Timberlake's "Cry Me a River" offers healing - cathartic emotion - through a rich, shared popular culture.

All the right grooves on Justified demonstrate the sexual and spiritual edification of Black pop. Four of the tracks feature contemporary courtship rights stepped out in a dance club setting: the booty-shaking "(Oh No) What You Got For Me," the booty-grinding "(And She Said) Take Me Now," the booty-grabbing "Rock Your Body," and the booty-slapping "Right For Me." But it's not only a style thing.

Justified proves this: "Love is here on the floor." That love multiplies - from love to Love - through Timberlake's multivalent expressions of attraction. With the opening track, "Senorita," Timberlake portrays heterosexuality as a pop convention with its playacting male-female call-and-response chorus. Black artists from Little Richard ("Slippin' and Slidin'") to Michael Jackson ("Ben") to Jay-Z ("Heart In the City") taught Timberlake to embroider het pop with homo codes.

Although he explicitly addresses a "girl" on "Take It From Here," Timberlake understands this universal truth: "Sometimes things get hard." Accepting his responsibility as a pop metaphor, Timberlake offers, as just one gay-gay example: "I wanna be your Broadway show on revue." Then he breaks in: "Why?" as if recognizing the homo connotations. But he answers himself, validating gay existence: "So I can act out how God was when He made you."

Touching as that is, Justified really excites when Timberlake conflates his admiration for Black culture with same-sex attraction. The fresh experience of such frissons makes up so much of the thrill of Justified, I'll only give one example. On "(Oh No) What You Got," Timberlake's sexual come-on "What you got for me?" is first introduced as a challenge proposed by Timbaland for Timberlake to show off his "musical" prowess: "What you got for me, Mr. JT?" For the rest of the song, Mr. JT has to match the intensity of producer Timbaland's driving bass beats.

Here's what Mr. JT's got: his ardor for Black style and culture erects a sense of compassion, social consciousness. On "Let's Take A Ride," Timberlake describes his pop-star ride as one of good will, altruism, and Love instead of familiar greed and decadence.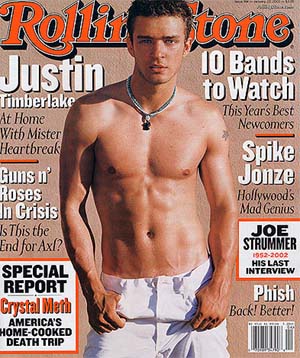 Reports about Justin Timberlake's debut album have been flooding the pages of pop magazines

The song starts with Timberlake offering his mother - literalizing the album's use of "mama" slang - respite from economic struggles ("I know life is hard on you / And you can't seem to find out why"), then his "girl"friend from "her" activist(!) struggles ("Try to change what you can / And accept all the things you cannot").

"Let's Take A Ride" politically grounds sentimental torch tracks like "Never Again" and "Still On My Brain." The vinyl scratch that equates pop recording with memory on "Still On My Brain" also occurs on the album's masterpiece, "Nothin' Else" - from pop romance to postmodern morality.

The Motown soul - and, as critic Armond White noted, Stevie Wonder funk - of "Nothin' Else" attests to Timberlake's keen pop cult memory that comes to bear on the song's romantic decision. That love gambit spins on necessary moral awareness.

Timberlake confronts history, difference, and desire: "You're out of this world / Except you're not green / Look!" "Nothin' Else" replays the choice Timberlake ultimately makes. Through reflection, Timberlake rediscovers revelation-via-action: "You taught me to use my heart and forget my eyes / And that's the way to His kingdom of eternal life."

Using his heart, Timberlake unabashedly recognizes Michael Jackson as a musical mentor on "Like I Love You." With signature Jackson squeals and tone-mixing, "Like I Love You" envisions the dance floor as a transcendent location. "Just be limber!" - and ameliorate the sexual-racial social anxieties that Jackson has come to signify.

The song ends with an openhearted disco dream: "Sometimes people just destined to do what they do / And that's what it is / Now, everybody dance." But then the song quickly fades out. That's the ambivalence that makes Timberlake cry a river of tears.