Barbara Gittings Awarded
American Library Assn's Top Honor

Recognizing America's Legendary Lesbian and Gay Activist

Three Honorary Members are Elected at the ALA's 2003 Meeting



Compiled by GayToday
American Library Association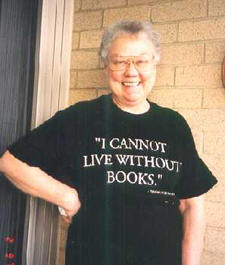 Legendary activist Barbara Gittings has been elected to honorary membership in the American Library Association, the organization's highest honor
Philadelphia, Pennsylvania--Barbara Gittings, Samuel F. Morrison and Lucille Cole Thomas were elected to honorary membership in the American Library Association (ALA) in action taken by the ALA Council at the ALA 2003 Midwinter Meeting, held January 24-29 in Philadelphia. Honorary membership, ALA's highest honor, is conferred in recognition of outstanding contributions of lasting importance to libraries and librarianship.

Barbara Gittings was nominated "for her lifelong commitment to developing positive images of gays and lesbians in the literature and on library shelves and to ensuring equal access to information for all people."

As the principal force behind the growth of the ALA Gay Task Force (now the Gay, Lesbian, Bisexual and Transgendered Round Table), Gittings developed programs to highlight the availability of gay materials for use in libraries.

In 1971, she helped to establish the Gay Book Award, leading to new critical evaluation for gay and lesbian fiction and non-fiction. She initiated the development of lists, directories and policy guides that, for many years, were the only models available to support the work of gay library workers and clients.

Gittings has been an activist since 1958, when she established the first East Coast chapter of the Daughters of Bilitis (DOB), the first-known lesbian organization in the United States. In 1970, she learned of the formation of the ALA Task Force on Gay Liberation and immediately became involved with its activities, serving as the group's coordinator from 1971-1986.

Gittings is a past member of the Endowment Committee for the Hormel Center Gay and Lesbian Library at the San Francisco Public Library. She is a member of numerous gay and lesbian and human rights organizations and is a frequent speaker and workshop presenter.

Gittings' pioneering efforts regarding gay and lesbian librarianship and intellectual freedom have been featured in several books, including Daring to Find Our Names, edited by James Carmichael, Jr. (Greenwood Press, 1998) and Before Stonewall, edited by Vern Bullough (Haworth Press, 2002); and documentary films, including Before Stonewall, its sequel After Stonewall, Out of the Past, and WHYY/PBS' Gay Pioneers.

Gittings' accomplishments have been recognized through the creation of ALA's Stonewall-Barbara Gittings Book Award For Literature and through the dedication in 2001 of the Barbara Gittings Gay/Lesbian Collection of circulating materials at the Free Library of Philadelphia's Independence Branch.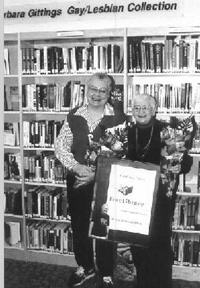 Gittings with her partner of 40-plus years, Kay Tobin Lahusen