United States Congress OKs
Religious Bias In Job-Training Bill

Senate is Urged: Reject Funding for Faith-Based Discrimination

Major Church-State Watchdog Group and PFAW Express Alarm



Compiled by GayToday
Americans United for Separation of Church and State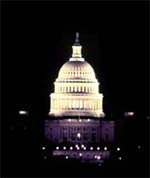 Washington, D.C-- Ignoring calls to respect civil liberties, the U.S. House of Representatives has passed a major job-training bill with a provision that would permit employment discrimination based on religious beliefs in federally funded programs.

"The House has just approved legislation that undermines our nation's commitment to civil rights and attacks the church-state wall," said Barry W. Lynn, executive director of Americans United. "It's shameful."

Last month, the Senate passed a major faith-based bill that did not include provisions guaranteeing religious groups the right to take tax money yet discriminate on religious grounds when hiring staff. At the time, however, some lawmakers vowed to put the provisions into future "faith-based" bills.

Voting largely along party lines late last week, the House voted 220-204 to approve the Workforce Reinvestment and Adult Education Act (H.R. 1261), which includes a provision that would permit religious groups to engage in discriminatory practices when hiring staff even in taxpayer-funded programs.

Americans United, along with other civil rights groups as well as labor and education organizations, urged the House to pass the Act without the discriminatory provision.

In a letter to House members, the watchdog groups noted that previous versions of the Act have specifically barred job-training programs from allowing religious discrimination.

Lynn said the House is on the wrong track.

"Federal job-training bills have traditionally respected our civil rights laws," said Lynn. "Today's action by the House is a sorry step backward. The Senate should correct this mistake."

"Maintaining the separation between church and state is fundamental to protecting the religious freedoms of all Americans," wrote People For the American Way President Ralph G. Neas and Public Policy Director Marge Baker in a letter to Representatives. "This can not be accomplished when organizations effectively use federal funds to deny employment opportunities based upon an individual's religious beliefs."

Proponents of removing the anti-discrimination language claim that the civil rights protections somehow interfere with the establishment of an organization's religious identity. "This is simply not true," said Neas. "Religious organizations have successfully partnered with the government to provide social services for decades successfully by separating their worship from their good work."