Canadian Court Recognizes Same-Sex Marriages in Ontario

Rev. Troy Perry Celebrates an MCC Church's Legal Victory

Toronto's Metropolitan Community Church Initiated Change



By Rev. Troy Perry
Founder and Moderator
Metropolitan Community Churches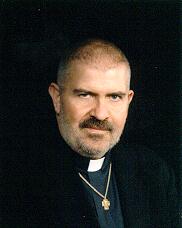 The Rev. Troy Perry praised the MCC in Toronto for its work in helping to gain same-sex marriage recognition in Canada
July 12, 2002
A legal victory by Metropolitan Community Church of Toronto today made Canada the third nation in the world to recognize same-sex unions, following in the footsteps of Denmark's (1989) registered-partnership law and the Netherlands' (2001) gay-marriage law.

A three-judge Canadian court today ruled that the Ontario government must recognize same-sex marriages under the law. Prohibiting gay couples from marrying is unconstitutional and violates the Charter of Rights and Freedoms, according to the court's unanimous decision. Today's decision marks the first time a Canadian court has ruled in favor of recognizing same-sex marriages under the law.

The court ruled on the issue after two Toronto couples, one gay and one lesbian, sued the Ontario government, which had refused to accept their marriages as legally valid.

Joe Varnell and Kevin Bourassa were one of those couples. Their wedding took place at Metropolitan Community Church of Toronto in January 2001. But government officials refused to register the marriage.

Early press stories reported:

"Bourassa wiped away tears of joy and thanked supporters as he stood on the front steps of the courthouse Friday morning in Toronto. Varnell told reporters that for the first time he finally feels like a human being.

"We've finally come to the point in this country where all families are going to be treated equal," he said. "The courts heard us. They have finally made it clear that this country can't continue to discriminate."

The Ontario Superior Court has given Ontario two years to extend marriage rights to same-sex couples.

While the legal decision marks a significant victory that will have impact across Canada and around the world, Ontario Superior Court Justice Heather Smith suspended today's ruling for two years, giving Parliament time to redefine the term marriage. It is also likely that the decision will be appealed to the Canadian Supreme Court.

The couples married in 2001 using an ancient Christian tradition of reading banns (asking in church on three Sundays if anyone objects to a couple's marriage) -- a legal alternative to city-issued marriage licenses under Canadian law.

After the ceremony at the Metropolitan Community Church of Toronto, which received media attention from around the world, the couples were given marriage certificates from Rev. Brent Hawkes. The government refused to recognize the marriage as valid,, however.

The couples, along with Metropolitan Community Church of Toronto, launched a lawsuit to have their marriages recognized. The case was heard last November along with a lawsuit brought earlier by eight gay and lesbian couples who had been refused marriage licenses by the City of Toronto.

Metropolitan Community Churches have long been committed to equality for gays and lesbians under the civil marriage laws. In 1970, MCC filed the world's first lawsuit to recognize same-sex marriages in California. The attempt was not successful, but MCC has continued the fight for equal rights for more than three decades.

Today, on behalf of all members and friends of Metropolitan Community Churches, I salute the couples who fought and won this new legal precedent -- as well as Rev. Dr. Brent Hawkes and the members of MCC Toronto for their commitment to social and spiritual justice for gays and lesbians.