African-American Probably
First U.S. Gay Movement President
Highlights from Nat'l Black & White Men Together Convention
Notable Activists Host Media & Stolen Election 2000 Workshop
By Jack Nichols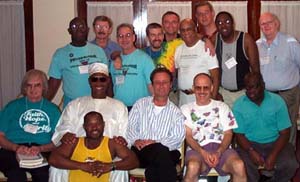 Attendees at Dr. James T. Sears' history workshop: Professor Sears (center, striped shirt) said it appears that the first president of an American gay civil rights organization (1924) was John Graves, an African-American preacher. Henry Gerber, the group's founder, was its Secretary. Dr. Sears is currently working on an expansive history of the early American movement.
Miami Beach, Florida-Controversy swirled as cultural and political bombshells exploded non-violently in hotel convention rooms here. The National Association of Black and White Men Together was conducting its 22nd annual convention August 3-11. Approximately a hundred and fifty men were registered at The Shelborne Beach Resort, a venerable landmark at 18th and Collins Avenue, directly on the ocean.

At a luncheon speech on Friday, Dr. James T. Sears, a prominent author and history scholar, disclosed his recent findings which indicate that the president of the very first American gay movement organization, The Society for Human Rights (Chicago, 1924) apparently was an African-American minister, John Graves.

Henry Gerber, the Society's founder and Graves' good friend, served as the Society's secretary, as shown in the group's Illinois incorporation papers. John Graves, says Dr. Sears, signed those papers as did the man with whom he lived, Ellsworth Booher.

The Society for Human Rights was almost immediately dissolved, however, when police jailed both President Graves and Secretary Gerber. This untimely intervention occurred when the wife of a bisexual member talked to her social worker about the Society and the social worker, in turn, reported its existence to the authorities.

In later correspondence with Manual boyFrank, Henry Gerber wrote about others who had taken part in forming the ill-fated visionary group. Referring to an African-American clergyman who'd played host to the new organization's membership, Gerber, a German immigrant, wrote: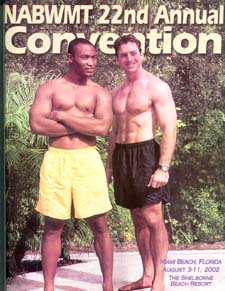 "I fortunately have no racial prejudices and especially not about Negroes. In Chicago I had a Negro preacher as a friend and his home was sort of a hangout for the brotherhood." (March 26, 1945)

Dr. Sears told GayToday: "Writing this letter two decades later about his preacher friend, Gerber didn't identify him by name, but it appears this African-American friend could only have been John Graves."

The present significance, if Graves was, in fact, the first chief officer of an American gay movement group, is clear. An Orlando Sentinel August 11 headline says: "Miami-Dade's gay rights may hinge on black votes." (August 11, page 1).

The Miami Bureau's Maya Bell notes how white religious fundamentalist crusaders for the repeal of the county's anti-discrimination ordinance have garnered significant support in the area's black community churches. There are 184,000 black voters in Miami-Dade County.

That the president of the nation's first gay organization may have been himself a black clergyman could prove an interesting twist in the right's upcoming battle for votes, one NABWMT convention attendee noted.

Press reports note that Miami area African-American civil rights leaders have been supportive of gay civil rights, contradicting discrimination-prone black churches. This fact heartened many at the convention.

An anti-gay Take Back Miami flyer distributed at these churches by white fundamentalists was repudiated outright by officials at the King Center in Atlanta. The Take Back Miami flyer's headline read: "Martin Luther King would be OUTRAGED if he knew gays were abusing the civil rights movement."

The King Center officials contradicted this message by recalling how Mrs. Martin Luther King, Jr. had declared solidarity with the LGBT movement when she took part in its 1993 March on Washington. Later, as GayToday reported, Mrs. King addressed dinners hosted by America's largest LGBT organizations, saying, "We must stand together."

The U.S. Corporate Media & Stolen Election 2000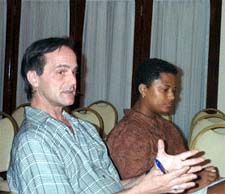 Jeffrey Montgomery of Michigan's Triangle Foundation and Nadine Smith of Equality Florida conduct a stirring workshop on corporate media's disregard of Election 2000's theft by George W. Bush et al.
An afternoon workshop featured two prominent LGBT leaders from both Florida and Michigan who focused on the corporate-owned media treatment of what they called "the theft of the Election 2000" by the Bush family and their operatives.

Nadine Smith (Director of Equality Florida) agreed with her co-speaker, Jeffrey Montgomery (Director of Michigan's Triangle Foundation), that it was not only because of the governor's shameful and deliberate disenfranchisement of Florida's African-American voters during Election 2000, but because of the corporate media's collusion, a media guilty of hiding and manipulating actual voter statistics.

Other manipulative devices, including those used by Jeb Bush's former Secretary of State, Katherine Harris (who is currently a U.S. congressional candidate hoping to represent Sarasota) were also recalled.

Nadine Smith told her listeners: "I do not use the word 'President' when I refer to George W. Bush."

Jeffrey Montgomery emphasized the "traitorous" behavior of the gang of five on the U.S. Supreme Court who had installed George W. Bush in the Oval Office.

When it was revealed that more than 585 U.S. Professors of Law signed a document essentially agreeing with Mr. Montgomery's viewpoint, many convention attendees, in this reporter's opinion, showed a heightened awareness of the need for increased political momentum.