Institutionalized Racism
Slowing Progress of GLBT Movement
15th Annual Creating Change Conference Takes Place Nov. 6-10
2002 Conference Theme is 'Building an Anti-Racist Movement'
Compiled By GayToday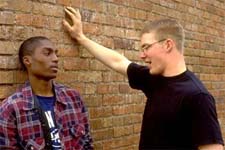 Portland, Oregon--The National Gay and Lesbian Task Force (NGLTF) will bring its 15th annual Creating Change(TM) Conference -- the largest national conference for activists from the political movement for gay, lesbian, bisexual and transgender (GLBT) justice, freedom and equality -- to the Pacific Northwest for the first time from November 6-10 at the Doubletree Jantzen Beach Hotel in Portland, Oregon.

In Portland, the conference will have a theme for the first time: Building an Anti-Racist Movement: Working for Social and Economic Justice. NGLTF's Director of Creating Change Conference, Sue Hyde, said, "We are firmly committed to addressing the impact of racism in this country and in our movement, and so we dedicate this conference to the goal of bringing anti-racism front and center in the conference program and in our movement."

By focusing on the issue of racism and building coalition in the post-9/11 world of increasing attacks on civil liberties and human rights, NGLTF hopes to begin bridging the historical separation of activists of color and white activists, build better relationships with natural allies and expand the political priorities of the GLBT community.

"Never in the history of our movement has such a large, multi-racial GLBT gathering focused on the impact of racism and the building of an anti-racist movement," said National Gay and Lesbian Task Force Executive Director Lorri L. Jean.

"Institutionalized racism is one of the most significant factors hindering our success as a movement and if we were unified as a community, we could better pursue and achieve our goals."

Although 2002 marks the first year that Creating Change(tm) has had a theme, the conference is not the start of NGLTF's work on these issues. The Task Force has been working on most of these issues for nearly thirty years and recognizes they will not be solved by a single conference, organization or even by 2,000 very committed people who annually attend the conference. "It is our commitment to continue to work on the goal of building an anti-racist movement," says Jean. "By building coalition and approaching this task with patience, intellectual honesty, empathy, understanding, determination and accountability, we can help our community and our movement make progress in building an anti-racist movement."

Creating Change(TM) begins with two days of pre-conference all-day teaching and learning sessions each devoted to a single topic area. Pre-conference institute topics include: Finding the 'I' in the Middle of Racism; People of Color; Our Community Aging With Pride; Campus Youth Organizing; Dismantling Institutional Racism; and Economic Justice and Class Issues in the LGBT Movement. These pre-conference institutes require a separate registration fee.

The conference itself opens with the Thursday evening plenary session followed by more than one hundred workshops, caucuses, panels, meetings, and trainings that enhance political skills and build the confidence level of activists and organizers. Sunday morning, final workshops are presented followed by the closing plenary and all-conference brunch.

Featured Creating Change(TM) plenary speaker Carmen Vazquez, Director of Public Policy at the Lesbian, Gay, Bisexual & Transgender Community Center of New York City says, "Creating Change(TM) is where I go to be with people who are trying to create the world we want to live in. It is where I go to give and get the support I need to strengthen and expand progressive GLBT activism, to be not just out and visible, but to be bigger than my queerness." She continued, "As we continue to struggle to defend civil liberties and civil rights and to create racial and economic justice in the midst of a war in the Middle East most Americans don't want, I need the solace of this progressive queer community, however fleeting, more than I ever have before. I think we all do."

Other featured plenary speakers are: Mandy Carter, one of the nation's leading African American lesbian activists and former campaign manager for a non-partisan statewide voter empowerment campaign for Florida's black community; Suzanne Pharr, the founder of the Women's Project in Arkansas and current director of the Highlander Center in New Market, Tennessee whose work has focused on building a multi-racial, multi-issue movement; and Tim Sweeney, former Deputy Executive Director for Programs of the Empire State Pride Agenda who helped secure more than five million dollars in funding for lesbian and gay health and human services organizations, including programs for gay teens.

Bringing the Creating Change(TM) conference to Portland seemed like the right thing to do in light of the anti-gay initiatives on the November 5 ballot in Nevada, Michigan, Maine and Washington. Since 1988, the communities of Oregon have faced more than 30 anti-gay ballot measure campaigns -- more than any other jurisdiction in the country.

"We are immensely proud to be holding this year's conference in Oregon," said National Gay and Lesbian Task Force Executive Director Lorri L. Jean. "Oregon has long been a leader in progressive movements in this country and is home to a well-organized and vibrant GLBT community that has overcome repeated challenges by organized anti-GLBT groups."