By Rex Wockner
International News Report

More than 6,000 Frenchmen, including many celebrities, signed an open letter to Egyptian President Hosni Mubarak protesting Egypt's ongoing arrests and jailings of gays.

The letter was handed over to the Egyptian Embassy in Paris February 8 by composer and musician Jean-Michel Jarre, just ahead of Mubarak's arrival in the city.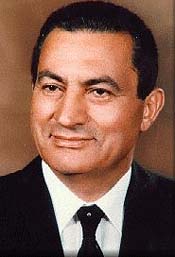 President Hosni Mubarak: Urged to stop persecution of gays

Among the celebrity signers were actress Catherine Deneuve, former Manchester United football star Eric Cantona and French television presenter and film director Frederic Mitterrand, nephew of the late president, according to Agence France-Presse, a news wire service.

Egyptian police and prosecutors have been on the rampage against gays for several months and more than 40 men have been sent to prison for up to five years simply for being gay.

Most recently, on February 3, a court in Boulak-al-Dakrour near Cairo convicted four men of consensual homosexual behavior ("the habitual practice of debauchery") and jailed them for three years.

During a meeting with Mubarak February 9, French President Jacques Chirac expressed "concern" over the crackdown and asked Mubarak if it would be possible to release the men from prison. "In the name of the defense of freedoms and the avowal of all forms of discrimination, the president expressed his deep emotion and worry," Chirac's press secretary said.