Compiled By GayToday
National Gay & Lesbian Task Force

Washington, D.C.--A national, multi-city study of Black gay, lesbian, bisexual and transgender people released yesterday documents a significant prevalence of parenting, high levels of political participation, and widespread experiences of racism and homophobia.

"Say It Loud: I'm Black and I'm Proud" is a collaboration among nine Black GLBT Pride organizations, a team of Black researchers, and the National Gay and Lesbian Task Force.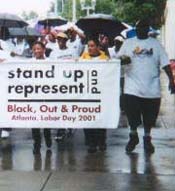 Members of In the Life Atlanta take to the streets

Representing the largest national, multi-city sample of Black GLBT people ever surveyed on such a wide array of topics, the study also found HIV/AIDS, hate violence, and recognition of same-sex relationships to be the top policy priorities of Black GLBT people.

"This report provides a first-time comprehensive look at the demographics, experiences, and priorities of Black gay, lesbian, bisexual and transgender people," said Dr. Juan Battle and Dr. Cathy J. Cohen, the study's lead researchers and primary authors.

"It contains significant policy implications for the predominantly White GLBT community, and for the predominantly straight African American community. This report also provides much-needed data on an underserved and understudied population which is an integral part of both the Black community and the GLBT community."

Joining Dr. Battle and Dr. Cohen as authors of the report are Dorian Warren, Dr. Gerard Fergerson, and Suzette Audam.

The data was collected as part of the Black Pride Survey 2000, a research collaboration between NGLTF's Policy Institute and nine U.S. Black GLBT Pride celebrations during the summer of 2000.

A total of 2,645 participants were surveyed at Philadelphia Black Pride, Houston Splash, Washington, D.C. Black Pride, Oakland Black Pride, Chicago Black Pride, Los Angeles's At the Beach, Detroit's Hotter Than July, New York Black Pride, and Atlanta's In the Life.

Among the key findings of the report:

Respondents identify the most important issues facing Black GLBT people as: HIV/AIDS, hate violence, and marriage/domestic partnership;

A high prevalence of parenting is revealed: 40 percent of women, 18 percent of men, and 15 percent of transgender people reported having at least one child;

Half of the respondents say racism is a problem in the White GLBT community;

Two-thirds report that homophobia is a problem within the Black community;

In terms of sexual identity, three quarters identify as "gay" or "lesbian," 11 percent "bisexual," and one percent "transgender";

More than half say their church or religion view homosexuality as "wrong and sinful";

The Black Pride sample is slightly less Democratic, and more Republican, than the Black population as a whole. At the same time, the Black Pride sample is more liberal than the Black population as a whole, with 47 percent identifying as liberal versus only 31 percent of respondents in the 1993 National Black Politics Study.

"It is important to build a national movement where the experiences of every person are understood and valued. This report provides important insights and recommendations for organizations committed to ensuring that the priorities of Black GLBT people are the priorities of the entire GLBT movement," said Lorri L. Jean, executive director of NGLTF. "The Task Force is proud to continue its commitment to these and other issues of racial and economic justice."

"Say It Loud: I'm Black and I'm Proud" is the third report released by NGLTF's Policy Institute in the last year that examines issues of concern to GLBT people of color and low-income people of all backgrounds.

Related Stories from the GayToday Archive:
Civil Rights and Wrongs

Black Caucus to HHS's Shalala: Declare AIDS State of Emergency

Latino Gay Men and HIV Risk -- A New NGLTF Report

Related Sites:
National Gay & Lesbian Task Force

In the Life Atlanta


GayToday does not endorse related sites.

The previous two studies examined the effects of welfare reform on GLBT families and the impact of social discrimination on HIV risk among Latino gay men.
---
Black Pride Survey Project: http://www.ngltf.org/pi/blackpride.htm