Compiled By GayToday
American Civil Liberties Union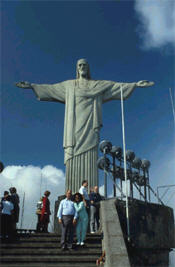 Sao Paulo, Brazil-- A Sao Paulo Court has found Wanderlei Cardoso de Sá responsible for the death of Edson Neris da Silva (January 2000), and has convicted him on additional charges of "participation in a gang" and an attempt against the life of Dario Pereira.

Dario Pereira, Neris da Silva's partner, and was severely beaten but managed to escape alive.

The Court sentenced Cardoso de Sá to 19 years and 6 months of imprisonment, plus a fine equivalent to 10 days of wages.

Nine skinheads have also been accused of the crime.

José Nilson Pereira da Silva and Juliano Filipini Sabino have been already sentenced to 21 years in prison.

Roberto Fernando Gros Dias and Davi Alves dos Santos-have been sentenced to 4 years and 7 months imprisonment each.

According to statements made by other defendants, Neris da Silva and Pereira were chosen as targets because they were holding hands.