By Rex Wockner

Los Angeles -- The Century Plaza Hotel and Towers was overflowing with stars April 17 for the 10th Annual Gay & Lesbian Alliance Against Defamation Media Awards.

Seventeen hundred guests and 110 media organizations attended.

Reporter Rex Wockner wandered between the main hall and the Press Room with his tape recorder to capture these snippets:
---
Tom Hanks: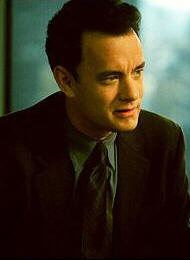 "In this era of political and religious attacks on the gay and lesbian community, their lives are an excellent, a perfect example of true, genuine family values. Love is love, it's a constant, it's the speed of light, cannot be changed, cannot be slowed down."

"I'm here because ... I like the work that GLAAD does. It's important work that, hopefully, within another ten years, won't be necessary. ... Wouldn't it be great if by the year 2008, if out of sincere disinterest, no one is showing up at the GLAAD event? Wouldn't that be a nice thing? I'm more than happy to do something because ultimately, to me, it's common sense and it's very American to embrace what is embraced here."

"Ultimately, the best thing [about Philadelphia was] we had a movie about somebody who was gay and the movie made money. That was the biggest thing that it did. And that means we have TV shows in which, sonofagun, there's characters that are gay on TV and they do fine and people watch them and it works out good. ... Half a decade has gone by and -- you know what? -- it's not that big a deal any more, is it? That's good stuff."
---
Melissa Etheridge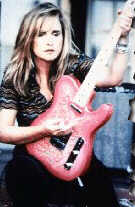 "Here we are standing in this lovely room in front of some of the most beautiful people on earth, and we don't quite know what to say because this is a strange kind of an award. It's strange to get an award for just living your life every day, you know? It's, like, OK. But we're here and we -- Julie and I -- just want to say thank you."

"I was 17 and I was growing up in the great state of Kansas in the fine town of Leavenworth. ... I was 17 and I kissed a girl for the first time. And the earth moved and the heavens opened up and I looked around and I felt like I was the most alone person on this earth. Because as far as I knew there were no other girls who had ever kissed any other girl ever. And the thought that I would be isolated and rejected for the rest of my life was a very, very real one.

"Then one day, I was looking through my father's books -- he used to teach high-school psychology and I was looking through his books -- and there was this little pamphlet on homosexuality and it had this little pencil drawing of two girls holding hands and my heart lept. I was not alone.

"Someone had drawn a picture of two girls holding hands, so somewhere someone had seen two girls holding hands. I didn't care what the pamphlet said. I didn't care if it said if we were sick or not or whatever; all I cared about was that image, the feeling of hope. And if the power of one small drawing was so great to me, imagine what the work all of us are doing means to young gays everywhere today."

Related Stories from the GayToday Archive:
1998 Hollywood Year in Review

9th Annual GLAAD Media Awards

GLAAD Media Award Nominees

Related Sites:
GLAAD

GayToday does not endorse related sites.

"I was thinking about what this award ceremony was like then [when I received an award for a video in 1994] and it was a bit more of a grass-roots kind of thing -- kind of, 'Hey, rah-rah, c'mon, we can go' -- and I remember there was one actually out actor -- it was, I'm sorry, I forget his name, but the guy on Frasier [Dan Butler], he was out. It was like, 'Oh, he's really out and he's, like, on a TV show, whoo' ... and it was a big deal. ... Wow, in like five years, it's so exciting to watch Will & Grace and then celebrate that."

"k.d. [lang] and I pretty much harangued [Ellen DeGeneres] for a long time, saying, 'Girl, c'mon, you gotta do this,' and everything, and we were on her for a long time, not really knowing what we were saying, not really understanding the scope of it and what it would do to her as a person -- just catapult her into sort of this activism full-on. I mean, she was our little funny Ellen who used to make us laugh at parties and such. [Now] she's out there blazing trails for us."
---
Whoopi Goldberg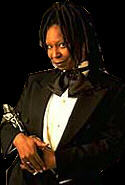 "The parts I've taken, I've taken because I believed in them. I've never seen any difference between me and anybody else -- white people, Chinese people, Spanish people, gay people, straight people, sheep."

"Do not shove people out of the closet. Don't do it. It's wrong, child. You have to let people come when they're ready. Because when they are ready, they will be your ally. ... It's like McCarthyism, it's like namin' names. No one has the right to do that. If we're going to be a cohesive unit, not just as gay folks but as human beings, then we have to respect each other, and not everybody's ready. Forcing people out doesn't make it an easier road for other people. It just makes you hide more."

"Will I be able to play more lesbian women, or is my time up? Because, you know, I see all of you [lesbians] all around -- I figure I ain't gonna get no goddamn work now."
---
Eric McCormack :
Will on Will & Grace:
"You have to be careful [on Will & Grace] because you're going to piss somebody off one way or the other. The main way [for us] is just to keep four characters that you love watching week after week. If they love them, you can get away with murder sometimes, which is great."

"My worst nightmare was gay men e-mailing me saying, 'What?!' And it's been the opposite very much. They've been writing saying: 'Thanks for showing another kind of gay man, a gay man that doesn't get shown a lot. That's me. Or that's my brother.'"

"[The success of Will & Grace] feels like you're the guy that gets to run over the finish line at the end of the year. It's a relay and we're at the end, so we get to hit the ribbon, but the rest of the race was run by somebody else [Ellen] and we're very grateful for it."

"I'm more leading man as a gay man than I ever was as a straight man."
---
Sean Hayes:
Jack on Will & Grace: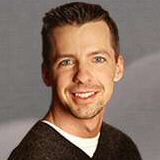 "[The response from the gay community has been] nothing but positive. Everybody loves it [Will & Grace]. They get Will, they get Jack, they get all the spectrum. It's all good."

"I wash my hands of that [talk of a kiss scene]. I have no clue about that. But, sure, Will is human and will get a date and probably will kiss a guy. Who knows when? You know, he's a little anal right now. He's not Jack."
---
Roseanne:

"I'm always so surprised at who I see here at these GLAAD things. I have to say I'm even more surprised at the people I don't see here."

"My one hope in this world is that gays will be running the entire world, and I mean overtly, not behind their little respective closets but out in the open. There would be no war, I believe that, just a greater emphasis on military apparel.

"And lesbians will perpetually be organizing the proverbial and infinite counterpoints, and the political counterattack -- along with increasing their upper-body strength and working to develop auto-fertility. The military code would change for the better, I believe, as well as the country and the world. Please ask, and do tell.

"I've known lesbians all my life. It's because of lesbians that I have a career, honestly. Thank them. And I find them to be the most unique as well as [most] frightening individuals alive. Only after myself, of course. Though I personally never tongued another woman's labes. Maybe because I hate women more than I hate men, I guess. And to lesbians, of course, that makes me a dyke.

"But I personally have always resented that myth, the one that says that lesbians hate men. How could they hate men? They don't have to fuck them! I truly believe that it is my godly duty on this planet to teach men how to fuck.

"Now don't laugh, because the truth is gay guys do not know how to fuck any better than their straight cousins. All men just want to do it a lot and run like hell."

"It really doesn't matter who you love, it matters that you love. So, I don't give a shit who you're fucking or any of that shit, I could give a shit, it's all a bore to me."

"My task nowadays [as a talk-show host] is to appear or become interested in any old bag of fuckin' wind they're sittin' in front of me. But, oh my God, I'm finding that I'm having a hard time being a supportive Oprah-type of role model. I think I'm like the Anti-Christ Oprah. Oh my god, it's horrifying. I'm not trying to save people or be a role model to them; I just wanna fuckin' scold them."

"God is only about love. Love. And more love. ... The devil is about hate, OK? The devil is where, like, hatred comes from, you fucking devil-worshipping, child-molesting, gay-bashing Nazi skinheads. Rest assured, if you hear this in your head: 'They must die' -- if that's in your head at all, that is a message from Satan, OK, not from God."
---
David Crosby of Crosby, Stills and Nash:

"In rock music there are people who really don't give a hoot what gets you through the night, at all, never have. ... And then there are people who are different, who probably do have some homophobic tendencies. Myself, that has never been a part of my character, and I'm glad about that, I'm proud of it.

"And I think there's a lot of the music industry that feels the same way. From the beginning of Crosby, Stills and Nash, David Geffen was part of our team, and I picked him, on purpose. ... There are people who get it and there are people who don't, and the job here is to make the people who don't [get it] understand that everybody's human beings, all of us."

"Matthew Shepard did some good because he made an awful lot of people realize that he was a human being and that he didn't deserve to go down the way he did. ... Anything that humanizes gay people in the eyes of the public is a good thing. That's the only good thing I can find about that [Matthew's murder]."
---
Kathy Najimy, co-star of Veronica's Closet:

"I find gay people as a group really incredibly interesting and stimulating and so I've always surrounded myself -- I have gay members of my family, my best friend is gay -- and in the last ten years the reason I've sort of upped my advocacy for gay and lesbian rights is because I think AIDS is a direct result of the homophobia we have in this country, and as long as people hate fags they're not going to care about AIDS. So I think hand-in- hand with my AIDS work, I've got to carry on my gay and lesbian work; it's the same thing."

"When I first presented an award at GLAAD, it was in somebody's living room, like in Encino, I swear to God. There was like eleven of us. ... I walked in today and I was completely mindblown -- Sharon Stone and Whoopi Goldberg and Melissa Etheridge and k.d. lang and Tom Hanks. I mean, not that celebrities make it but I think it's a symbol of how it's outreached out to -- it's the universe now.

Of course it could be better. I would like for there to be characters on television where it's not about them being gay. But we have Will & Grace, we have Ellen, I'm thrilled. ... Tom Hanks being here is everything because the world looks up to him like Jesus Christ."
---
Ellen Degeneres: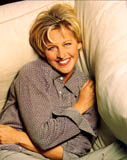 "I have a different perspective now [on Ellen's cancellation]. I don't look at it as shit that happened. I mean, I should have been a little more realistic about it, you know, known what was going to happen. It's not that I feel vindicated. I'm thrilled that [Will & Grace] is on the air.

"I'm thrilled every single time I see any progress at all. And it seems like we take one step forward and then Matthew Shepard gets killed and still Wyoming won't even pass a hate-crime law, even after this guy was tortured. ... The more that we're represented everywhere in television and film, and shown as people that exist and live lives like everybody else, it's a wonderful thing. I'm thrilled to see this [Will & Grace] on TV."
---
Kerr Smith, Jack McPhee on Dawson's Creek:

"When Kevin Williamson told me they were thinking about this [gay storyline] with the character, I told him I was at a hundred and ten percent because it's a challenge, it's something you look for as an actor.

"I think we're doing a great thing. There's a lot of teenagers that are going through the same kinds of issues as Jack McPhee and I'd like to think that we're helping some people out, shedding some light."