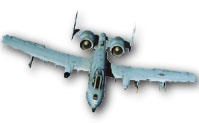 Air Force Captain Craig Button, 32, the A-10 pilot whose attack plane crashed into a 13,000 foot mountain in the Rockies, committed suicide because he was afraid his estranged male lover, another flier, was about to expose their affair, according to a May 2 report in Arizona's Tucson Citizen. If the pilot, who was single, had been under an investigation due to his "suspect" sexuality, he could, because of Pentagon policy, have faced discharge.
The Citizen account read that Button, "apparently intentionally smashed (his) plane into a Colorado peak because his private life was about to be revealed by an estranged (gay) lover."
Button's 8.8 million bomber was the last in a formation that was heading toward a bombing range in Southwestern Arizona April 2. Button suddenly veered off course and his remains, as well as those of the attack plane, were discovered after a difficult and highly publicized search, near Vail, Colorado. The Tucson Citizen quoted its inside source as having said that investigators think that Button, a New York state native, had targeted Craig Peak on New York Mountain in the Central Rockies. The plane crashed on Gold Dust Peak, however, directly south of Craig Peak on New York Mountain.
The Servicemembers Legal Defense Network, a national organization dedicated to assisting military personnel hurt by the "Don't Ask, Don't Tell, Don't Pursue" policy, first alerted GayToday's international correspondent, Rex Wockner. SLDN had noted the Tucson Citizen's report, but currently indicated it had "no independent information to substantiate or verify the news story." The Network, however, said that if the story is, in fact true, that it is concerned "about any ongoing investigations under 'Don't Ask, Don't Tell, Don't Pursue,' against additional servicemembers at Davis-Monthan or Laughlin Air Force Bases, and is asking anyone with concrete information in this regard to contact SLDN: www.sldn.org.
An Air Force spokesperson called the report "unsubstantiated," although the Tucson Citizen's account claimed it was quoting an identified military source close to the suicide-crash investigation. "The Air Force really believes that this could be the answer," the source told the newspaper.
Colonel Joe LaMarca, speaking for the Air Combat Command at Langley Air Force Base in Virginia, said that the Air Force decided April 30 to convene an accident investigation board that will look at all aspects of the case, including Button's personal life. Another guess, hazarded early, was that Captain Button could have been unnerved, after a visit home, by the anti-military views of his parents who, reportedly, had recently become Jehovah's Witnesses.
Colonel LaMarca said that the Tucson Citizen had made "some very clear assumptions or accusations of a military investigator close to the source," but, Colonel LaMarca insisted, "I'm here to tell you that the board just convened, and I'm not even sure whether all the investigators are out there (Arizona) yet."
The Air Force is conducting its own investigation as well, through its Office of Special Investigations. A Washington, D.C. spokesperson for this Office, Captain Steve Murray, said of his department, " We're not discounting anything and dismissing any possibilities at this point."