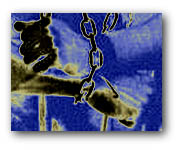 Most people think that male rape happens only in prisons. In fact, thousands of men are raped annually.
In 1994, according to U.S. Bureau of Justice statistics, 15,000 American men reported they had been raped or that an attempt to rape them had been made. 300,000 women reported likewise. Based on interviews with those men raped, it is suspected among clinicians that male rape--mostly committed by those who consider themselves heterosexually-identified--is, in fact, skyrocketing.
There are various reasons given. Some believe that heterosexually-identifying men, fearful of breaking the homosexual taboo, use rape to satisfy an otherwise socially forbidden fantasy. Others say, as is believed to be true in the case of women who are raped, that such behavior is not sexually-based but is an act of violence. This contingent says that rape represents male-conditioning that places values like power and control in the forefront. These values become, in macho-mania-mad minds, eroticized.
A third group blames both male and female rape on a general sexual repression that is fostered by a culture awash in an unnatural prudery and a resulting sexual confusion. The Sexual Assault Services center in San Bernardino County, California has received reports of rape from 213 men, yet only 13 have reported their attacks to law enforcement officers.
One young man, sedated by medicine he'd swallowed at a Philadelphia party last year, spent the night in a friend's spare room and woke up to find a strange man sodomizing him. Nearly paralyzed from shock, he told himself it was a dream, but upon later examination he discovered that the trauma had caused him rectal bleeding.
He felt, he said, as if he'd been murdered.
In Tallahassee, a 17-year old boy took a shortcut through an undesirable part of the city. He was waylaid by a man with alcohol on his breath who pulled a knife and forced the teen into an abandoned house nearby. He grabbed the boy's head and made him perform oral sex before raping him anally and then releasing him.
In Atlanta a male high school friend stayed overnight with his buddy following The Prom. The two were having an affair but hadn't had anal sex. One overpowered the other and forced him to submit.
The majority of rapists are heterosexual, according to victims. Such victims' and their difficulties are little known. They fear their stories will be greeted with disgust, laughter, or disdain. Few, it seems to them, really care to blame attackers any more than they do the victims, as if to say that a male victim surely could, if he wanted, defend himself.
Heterosexual men who are raped often begin to question their own sexuality, to wonder if they are, unknown to themselves, gay, or if they may appear to be gay to their attackers.
Even gay victims, it is said, wracked with guilt, hesitate or refuse to press charges and sometimes blame themselves for failing to stop the rapists. Parents of gays have been known to blame their children in such circumstances for "hanging around with the wrong people."
Nor, as was long the case with women, do male rape victims get taken seriously by the police.
The FBI has made no provisions for counting male-on-male rapes. In nearly half the states, rape is still usable as a legally defined category only as it applies to women raped by males. States that record sex violence between men refer to the instances under such euphemisms as unlawful sexual intercourse, criminal sexual conduct, or sexual battery.