---
AIDS, Children, The United Nations & Southeast Asia
Kaiser Daily HIV/AIDS Report
WHO, UNICEF Meet to Discuss Blueprint for May U.N. Meeting on Children; AIDS Listed as Leading Cause of Death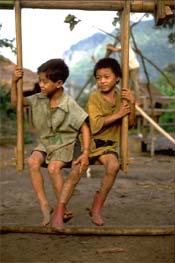 HIV/AIDS is one of the leading causes of death for children around the world, according to health officials from the World Health Organization and the United Nations Children's Fund, the New York Times reports. WHO and UNICEF officials stated that HIV/AIDS, diarrhea, malaria, measles, pneumonia and malnutrition are the main causes of death for children worldwide (Olson, New York Times, 3/14).

Officials from the two agencies were meeting in Stockholm this week to discuss strategies for reducing the 11 million preventable child deaths that occur around the world each year. "[T]he annual death toll of (11 million) children is nearly four times as high as the number of people dying from AIDS," WHO Director-General Gro Harlem Brundtland said. Officials attending the meeting aimed to incorporate strategies for reducing preventable childhood deaths into a blueprint that will be presented at the U.N. General Assembly's special session on children in May.

Anne Henderson, a primary health care specialist with the humanitarian group WorldVision, said that the special session will discuss a variety of HIV prevention strategies for children, including abstinence, delaying the onset of sexual activity, monogamy and safe sex (Barber, Washington Times, 3/14).
---
Asian Nations Must Take 'Balanced Approach' to Combating HIV/AIDS, CDC NCHSTP Acting Director Says

Harold Jaffe, acting director of the CDC's National Center for HIV, STD and TB Prevention, yesterday told Asian leaders attending the International Congress on Infectious Diseases in Singapore that they must take a "balanced approach" to combating HIV/AIDS or else "initial successes are unlikely to be sustained," Agence France-Presse reports.

"I think throughout the world, including Southeast Asia, there is tension in the need to continue prevention programs and the desire to start an antiretroviral therapy program in the sense that one will necessarily take resources form the other," Jaffe said, adding that "the important point is we need both."

He said that treatment initiatives, including antiretroviral therapy, are "indispensable" in long-term strategies against the disease. "We aren't really going to get anywhere if we take our prevention resources and use them for treatment. We have to fund both; otherwise we won't have a viable program," he added (Agence France-Presse, 3/13).
---
India to Bar Foreigners With HIV From Entering Country

Indian officials will begin barring individuals with HIV from entering the country within the next few months, according to Health and Family Welfare Minister C.P. Thakur, the South China Morning Post reports.

Upon entering India, visitors will have to produce medical records stating that they are not infected with the virus. If they are HIV-positive, they will not be allowed to travel in the country, Thakur said, citing as the basis for the new policy a recent report that found that "contacts with foreigners are responsible for the sharp rise in HIV cases" in India.

He noted that North Korea tests citizens for HIV before and after traveling abroad. The policy does not have to go to Parliament, as the Health Ministry has the authority to pass rules after ministerial consultation. Thakur said that HIV/AIDS is the "most serious health problem in India," with nearly four million HIV cases reported and another 23 infections estimated to occur every minute.

Experts warn that without an AIDS vaccine, the progression of HIV/AIDS will only worsen because AIDS drugs are too expensive for most Indians. In addition, the high prevalence of tuberculosis -- India accounts for about 25% of the world's TB cases -- complicates efforts to battle HIV/AIDS because both diseases are known to "spee[d] up the progress of the other." TB is responsible for about one-third of AIDS-related deaths worldwide and 40% of all deaths in Asia (Abdi, South China Morning Post, 3/13).
---
This summary is from the Kaiser Daily HIV/AIDS Report http://www.kaisernetwork.org/dailyreports/hiv provided by kaisernetwork.org), a free health policy news summary and webcasting service of The Henry J. Kaiser Family Foundation. The Kaiser Daily Health Policy Report is published for kaisernetwork.org by National Journal Group Inc. © 2001 by National Journal Group Inc. and Kaiser Family Foundation. All rights reserved



© 1997-2002 BEI