Kaiser Daily HIV/AIDS Report

British singer-songwriter and AIDS activist Sir Elton John appealed Thursday to the Senate Health, Education, Labor and Pensions Committee to increase U.S. international HIV/AIDS spending in fiscal year 2003, the New York Times reports.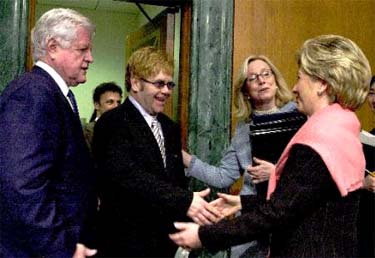 Sir Elton John shakes hands with Sen. Hillary Clinton as Sen. Edward Kennedy looks on following Elton John's testimony before the U.S. Senate

"No nation, corporation, foundation or individual has the money you have. No one even comes close," John, whose Elton John AIDS Foundation has spent $35 million over the last 10 years on projects in 55 countries, told the panel. John appeared at the request of the panel chair, Sen. Ted Kennedy (D-Mass.), who said he wanted to "raise visibility and awareness of this issue" while the panel debated measures that could appropriate between $500 million and $2.5 billion in international HIV/AIDS funding.

The Bush administration has asked for $800 million in international HIV/AIDS funding for FY 2003, including a $200 million donation to the Global Fund to Fight AIDS, Tuberculosis and Malaria. John yesterday did not mention a specific figure but told the panel it had a "moral obligation" to act (Stolberg, New York Times, 4/12).

"People with lives to lead and work to do and children to raise must not be left to die just because they're poor," John said, noting that 95% of new infections occur in poor countries without the resources to deal with the epidemic (Agence France-Presse, 4/11).

"You have the power to end this epidemic. Please end it. Please end it," he added (Eldredge, Atlanta Journal-Constitution, 4/12). John went on to describe some of the work his foundation has done in Africa, saying it had limited resources and noting that the "people on the front lines of this disease need reinforcements, and they need them now" (Sternberg, USA Today, 4/12).

Expanding Treatment Access

John was joined yesterday by Sandra Thurman, head of the International AIDS Trust and former White House Office of National AIDS Policy director, who said that Congress cannot limit its support to prevention initiatives.

"Where treatment is offered, counseling and testing centers are swamped," she said, noting that prevention and treatment go "hand-in-hand" (Kenen, Reuters, 4/11). She also discussed a possible program that would use businesses to educate employees and their families about the disease.

"That's particularly important where we have anywhere between 5% and 30% of the work force infected," she said. The panel also discussed the use of antiretroviral medications, particularly nevirapine to reduce the risk of vertical HIV transmission, and Senator Hillary Rodham Clinton (D-N.Y.) warned that discussions of HIV/AIDS must also look beyond Africa to Asia, where the epidemic is "alive and well and spreading" (Sloan, Newsday, 4/12).
---
This summary is from the Kaiser Daily HIV/AIDS Report http://www.kaisernetwork.org/dailyreports/hiv provided by kaisernetwork.org, a free health policy news summary and webcasting service of The Henry J. Kaiser Family Foundation. The Kaiser Daily Health Policy Report is published for kaisernetwork.org by National Journal Group Inc. © 2001 by National Journal Group Inc. and Kaiser Family Foundation. All rights reserved