Like many kids of my generation, I got acquainted with Leonard Bernstein (1918-1990) by watching his CBS television series Young People's Concerts. For over a decade, Bernstein and his New York Philharmonic Orchestra introduced and popularized classical music to a generation of Baby Boomers.

Though I am not musically talented myself, I can appreciate musical genius when I see it -- both my long-term lovers are gifted singers and musicians - and I was immediately impressed by Leonard Bernstein.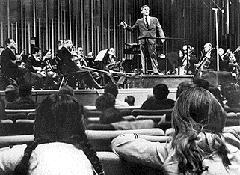 Bernstein performs at a Young People'sConcert

No one before or since --with the possible exception of Wynton Marsalis - has been able to make classical music interesting to kids raised on rock. Many a classical music career came about because a talented boy or girl saw Bernstein's Young People's Concerts.

Though classical music never quite replaced rhythm and blues or jazz in the sound-track of my life, Leonard Bernstein remained a personal favorite. As a conductor, particularly as principal conductor and music director of the New York Philharmonic orchestra, a position he held for most of the sixties, Bernstein was without peer. His classical compositions, not to mention his movie and show music, make the most celebrated American composer since George Gershwin.

But Lenny Bernstein was more than a musical genius. He was a celebrity in a celebrity-hungry culture; a larger-than-life figure that dominated every room that he entered and every event that he attended.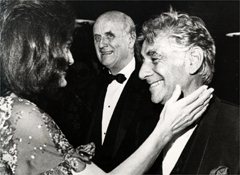 Berstein meets with Jackie Onasis
He dominated postwar New York society, rivaled only by Andy Warhol. (Much of the material in this essay is taken from Leonard Bernstein: A Life, Meryle Secrest's excellent biography. I also quote from Charles Kaiser's history The Gay Metropolis.)

Though Bernstein's musical greatness is unquestioned, his sexuality is still controversial. Bernstein alluded to his divided self when he described himself as being "half-man, half-woman". A friend, Shirley Rhoads Perle, told Secrest that she "thought he required men sexually and women emotionally".

This does not mean that Bernstein was bisexual: Like many gay men of his generation, he was a devoted husband and father in public and promiscuously queer behind the scenes. Arthur Laurents, Bernstein's collaborator in West Side Story, told Kaiser that Bernstein was simply "a gay man who got married. He wasn't conflicted about it at all. He was just gay."

Bernstein's homosexual career started quite early. While at Harvard University (1935-1939), Bernstein had an affair with his mentor, conductor Dimitri Mitropoulos.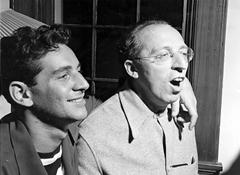 Bernstein with Aaron Copland
Out of school, Bernstein met and loved Aaron Copland, at the time a much more renowned composer: "He [Copland] taught me a tremendous amount about taste, style and consistency in music," said Bernstein.

This was a time (1940) when being gay was almost de rigueur in New York musical circles, so much so that the American Composers League was known in the life as the Homintern. Through his association with men like Copland, Bernstein was introduced to gay life in "the Gay Metropolis" (New York City).

Though Bernstein dated women during the forties, most of his sexual activity was with other males. It was a promiscuous time. A friend, Antonio de Almeida, told Secrest that "They all went to bed with each other, but it was all very casual. Like a Turkish bath. Anyone who showed up."

While visiting Israel in 1948, the young conductor had an affair with Azariah Rapoport, a stunning young Israeli soldier who was his guide. Bernstein was madly in love: "I can't quite believe that I should have found all the things I've wanted rolled into one. It's a hell of an experience - nerve-racking and guts-tearing and wonderful. It's changed everything."

Not quite. By 1949, Bernstein ended his affair with Rapoport and began to seriously consider marriage. In fact, Bernstein shared society's negative views on homosexuality, which in a gay man translates into self-hatred and hatred of other gay men. "One of Bernstein's most intractable contradictions was the special contempt he reserved for the kinds of homosexuals he seemed to pursue," wrote Secrest.

Bernstein underwent psycho-analysis with the Hungarian-born Dr. Sandor Rado, whose specialty was "curing" homosexual men of their "inversion". A friend, Noel Farrand, told Secrest that Bernstein "told me that where sex was concerned he had always been very adaptable, but he had decided that homosexuality was a curse. He was so tense and emphatic about it. He felt marriage had saved him from a homosexual life style."

But if Bernstein thought that his marriage (1951) to Felicia Montealegre was the end of his gay life, he was mistaken.

Through it all, Bernstein remained musically active. While uncertain of his own sexuality, he did not hesitate to work with other gay men. The musical West Side Story (1957), Kaiser wrote, "was the creation of Leonard Bernstein, Jerome Robbins, Arthur Laurents, and Stephen Sondheim: four gay Jewish men, all working at the very top of their craft."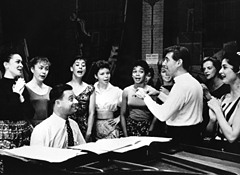 The cast of West Side Story with Bernstein

Though each one contributed greatly to this masterpiece, Bernstein's "synthesis of Broadway, jazz, Latin rhythms, and Aaron Copland perfectly captured the city's astonishing spirit."

It also captured the gay spirit. To quote Kaiser, "Thousands of gay Americans fell in love with West Side Story when they were children in the fifties. . . . To many gay adults coming of age in the sixties, the romance, violence, danger, and mystery so audible on the original cast album all felt like integral parts of the gay life they had embraced. The lyrics of "Somewhere" in particular seemed to speak directly to the gay experience before the age of liberation." It didn't hurt that actor Larry Kert, who starred as Tony, was also gay.

The sexual drive is a powerful engine. In Bernstein's case it led him to countless homosexual liaisons, even as he had two daughters and a son with the devoted Felicia.

Like most women in such situations, she feigned ignorance of her husband's homosexuality, though she almost certainly knew. Howard Rosenman, who had an affair with Bernstein while they were in Israel right after the Six Day War (1967), told Kaiser that he thought Mrs. Bernstein was probably aware of what was going on.

In an interview with Secrest, a friend of the Bernsteins recalled finding "Bernstein in a hallway necking with a beautiful twenty-year old boy. His wife was sitting by herself in the living room. When asked what she was doing, Felicia Bernstein said she was waiting. 'I've been waiting for Lenny all my life.'"

Intense as Bernstein's gay affairs were, they did not disrupt his cozy married life. This ended when Bernstein met (1973) and fell in love with young Tom Cothran.

Lenny was infatuated with the boy to such an extent that he allowed his wife to catch them in bed together. No longer able to pretend otherwise, Felicia threatened to "make a public scandal." New York society, who should have known better, was shocked when Bernstein moved out of his marital home and "into an apartment on Central Park South with an unimpressive-looking youth he called the love of his life."

But, for Bernstein, "loves of his life" are of short duration. By 1977, Mr. and Mrs. Bernstein had reconciled, and Lenny broke up with young Cothran. Still, the two men remained friends, and Cothran's death from AIDS affected Bernstein greatly.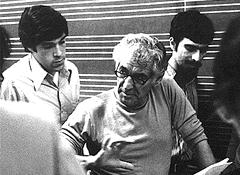 Bernstein teaches at Harvard

Felicia Bernstein died of cancer, June 16, 1978. After she died, Bernstein threw all caution to the winds. Increasingly addicted to alcohol and drugs, he became more open about his homosexuality. He also didn't know when to stop.

Alan Helms, in Young Man from the Provinces, recalled an embarrassing 1977 "date" with an increasingly drunken Bernstein. Nor was Helms the only "victim" of Bernstein's affections. Pianist William Huckaby, after performing at a White House recital, was talking with President Carter when he "felt these hands clamped on my shoulders, I was whirled around and engaged in a deep kiss of the French variety and Bernstein was saying, 'I haven't heard such virile piano playing for fifteen years. It was magnificent.' President Carter watched all this with his mouth open and then walked away. I was charmed in a way, but in retrospect one had to concede he was crude."

During his last decade, Bernstein was surrounded by an entourage of beautiful boys, each one as intoxicated and obnoxious as his patron. Still, there is no truth to the rumor that Bernstein was HIV-positive.

Perhaps Lenny Bernstein was making up for lost time. In any case, had he been more comfortable with his homosexuality - as are his collaborators Arthur Laurents and Stephen Sondheim -- it's possible that he would have settled down to a long-lasting, loving gay relationship.

But that is all speculation. In any case, thanks to recordings, movies, concerts and stage revivals, we can still enjoy what made Bernstein undoubtedly great: his immortal music.
---
Photos Courtesy of www.leonardbernstein.com