By Rex Wockner
<><><1><><>
"High-school theater saved my life. I was a drug addict. An alcoholic. An open lesbian. I was ready to slit my wrists but theater was there for me."
--Comedian/actress/singer Lea DeLaria to Seattle Gay News, July 10.
<><><2><><>
"My mom's like super-miss-artsy-liberal person. But my dad's a little more conservative. He actually loved it. Afterward he had his picture taken with all the drag queens who were in the film."
--Actor Brad Rowe on his role in the new gay film Billy's Hollywood Screen Kiss, to the Associated Press.
<><><3><><>
"I was a little worried about the [gay] bed scene, where we were lying together. Since I've done that role and since it took its turn at Sundance, a ton of doors have opened up for me. I've done some projects that have all been straight roles. I just finished up a TNT original Western where I was riding horses and shooting guns and all that kind of stuff. I don't think you can get more hetero than that."
--Actor Brad Rowe on his role in the new gay film Billy's Hollywood Screen Kiss, to the Associated Press.
<><><4><><>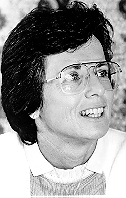 "When I was outed, I felt I was then out. It was like, 'That's done.' But I guess the gay community never felt that way, that's for sure. When I said [the gay affair] was a 'mistake,' I meant it was a mistake because of the monogamy issue, not because of the gender. I mean, I was pretty stressed out--nobody likes to be outed, especially that way. I felt very violated. It's like rape, probably. I would just never out anybody. I think everyone has to find it in their own way and their own time. Any therapist will tell you that when you're ready, you will [come out]. To be outed means you weren't ready."
--Tennis legend Billie Jean King to The Advocate, Aug. 18. King was outed in 1981 when ex-lover Marilyn Barnett sued for "galimony." King was also married to a man at the time.
<><><5><><>
"I wish [Martina Navratilova had] been around more at the time when I was outed but [lesbian author] Rita Mae Brown really did not want her to hang out with me at all. Rita Mae didn't like me. She didn't want anybody to be close to Martina. She would tell Martina that tennis was a joke. She didn't want Martina to play doubles with me at Wimbledon. It was just petty stuff. When I was outed, Martina called me and said, 'Oh, Rita Mae had me call just to find out the dirt.' That's not being supportive. Martina and I went through a very bad five years. Everything's very good between us now, but it was a long haul."
--Tennis legend Billie Jean King to The Advocate, Aug. 18.
<><><6><><>
"Twenty-one years ago I began to train with weights. A year later I accidentally stumbled across the sport of bodybuilding. My teenage life was careening toward oblivion. I was a jock-artist- slacker-stoner-theater geek, but beyond all that I was a fag. Given the time, place, and so forth, self-destruction seemed--at the very least--entrancing. Where no true-identity romance was possible, a slow dance with nihilism appeared magnetic. And along came bodybuilding, pulling me in with a new way to fight against the downward spiral of life's gravity."
--Former Mr. Universe Bob Paris writing in The Advocate, Aug. 18.
<><><7><><>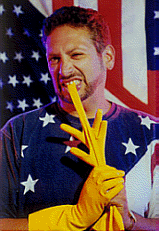 "We're not different, we're extraordinary!"
--Playwright/actor Harvey Fierstein at the Gay Games opening ceremonies Aug. 1 in Amsterdam.
<><><8><><>
"A small fringe group of hard-core homosexuals were running their own 'Queer Do-It-Yourself Games,' featuring purse-tossing and a 200-meter dash in high heels."
--From an AP dispatch from the Gay Games in Amsterdam, Aug. 1.
<><><9><><>
"Reggie [White], you are wrong, so very wrong! Are you aware that the American Association of Psychiatrists removed homosexuality as a disorder more than 25 years ago? How can you dare to contribute to the pain of millions of Americans, especially gay teen-agers who are bullied, vilified and bashed by classmates because of extremist and outdated views on homosexuality? As a former Green Bay Packer, as a 10-year veteran of the National Football League and the World League, as a man who happens to be gay, shame, shame on you!"
--David Kopay writing in The New York Times, Aug. 2.
<><><10><><>
"You'd be surprised, perhaps, with how few people want to talk about sex with their congressman."
--Gay U.S. Rep. Barney Frank, D-Mass., in an AP story on Madison, Wisc., lesbian Congressional candidate Tammy Baldwin, Aug. 3. Baldwin is being gay-bated by a fundamentalist-Christian opponent.
<><><11><><>

"Gay activist tactics of derision and intimidation about orthodox Christianity arouse needless animosity without producing fundamental change: Viciously silencing opponents simply guarantees that when the backlash finally comes, it will take massively reactionary form. No authentic dialogue is possible with gay activists, as I know from experience. Their minds are closed: They think in starkly Manichaean terms of good vs. evil, with themselves cast as the angels. Hence they and Christian fundamentalists are made for each other, in a nonstop cyclic melodrama of hysterical mutual torment."
--Lesbian academic/writer Camille Paglia in her Aug. 4 Salon magazine column.
<><><12><><>
"[T]he claims that homosexuality is innate are based on questionable and minuscule evidence. ... The PC parrots who are squawking that view all over the media don't seem to realize that their vaunted body of data simply suggests thus far that gay men are developmentally defective -- that is, that they were incompletely masculinized in the womb, perhaps because of emotional or environmental stresses on their pregnant mothers. Is this really where we want gay rights to be heading?"
--Lesbian academic/writer Camille Paglia in her Aug. 4 Salon magazine column.
<><><13><><>
"The religious right has been trying to shop around a story to the media for a few years now. It's the story of 'ex-gays' who are 'healed' through new, ground-breaking Christian 'therapies.' They've found few takers. Why? Even in today's media environment of fake sources and spotty fact-checking, journalists who spent any time on it recognized that the story was a flimflam. Anti- gay activists and the religious right's spin-thugs have grown so frustrated in their effort to promote their dubious ex-gay theories and fishy 'conversion' stories that they've finally decided to pay for what they couldn't pitch. Their full-page ads debuted this month in the Los Angeles Times, the New York Times, the Washington Post and USA Today."
--Columnist Christopher Calhoun in the Los Angeles Times, July 29.
<><><14><><>
"The drugs and alcohol took over. I went out a window. I was drinking gin. I never used to drink gin. It totally took me over. I don't remember jumping out the window, but all evidence points to that. I never contemplated suicide before. It was a little out of character."
--Gay porn star Ryan Idol (Marc Anthony Donais) on his March 20 jump from a fourth-floor window in New York City, to the Miami Herald, Aug. 5. Idol survived because he bounced off an awning.
<><><15><><>
"That was an education [performing in Texas recently]. Houston was very good. San Antonio was good and bad. I had some great shows; I had some other shows where half the audience walked out. But my retort to San Antonio was, Jeez, it's as if they've never seen a feminine blond boy before, which means they must never have seen 'Titanic.'"
--Gay actor Scott Thompson (Kids In The Hall) to Salon magazine, July 23.
<><><16><><>
"As gay culture has ascended, there's been this attempt to masculinize gay men, which I think is quite silly and very wrong- minded, and I'm hoping that [my character] Buddy Cole [who has written a new book] can slap a little sense into people. You know, I'd be slapping them with a handbag! But, I mean, come on - - the sissy is the truth. The muscle queen is not. That is a false construct held up by wires, strings, steroids and the gym. It's not real. And if gay men aren't going to accept the sissy, then they're doomed."
--Gay actor Scott Thompson (Kids In The Hall) to Salon magazine, July 23.
<><><17><><>
"Monogamy means someone is lying ... If I had a lover who never turned an eye to anyone else, I'd be inclined to check for a pulse -- or a personality."
--Carnal Queeries columnist Lushus Lucy writing in the Toronto gay newspaper Xtra!, July 16.
<><><18><><>

"I'm impressed. I've never seen a community as friendly as this one. Everybody knows everybody and everybody waves to everybody and talks and everybody is friendly with everybody. This tour has taught me a lot. I've lead a very sheltered life. I didn't know anything about gay or anything else. But they're our community, and I'm the mayor and it's my job to make sure I understand them better and understand the community better."
--Toronto Mayor Mel Lastman on a recent stroll through the city's main gay neighborhood.
<><><19><><>
"Those standing up for sexual freedom are neither lost in a romanticized vision of the golden age of the 1970s, nor dick- hungry men selfishly seeking more power and male privilege as our critics have claimed. We have been condescendingly characterized as immature children who haven't grown up and who need to get with the times, put our pricks back in our pants, and apply our energies to the real challenges like gays in the military and gay marriage. Yet even a cursory look at the histories of our movement will show that sexual liberation has been inextricably bound with gay liberation, the women's movement, and the emancipation of youth."
--From Eric Rofes' new book Dry Bones Breathe: Gay Men Creating Post-AIDS Identities and Cultures.
<><><20><><>
"Gay men and lesbians are now being offered limited tolerance and some real but circumscribed social gains provided they ostracize the sexually and politically unorthodox in their communities. ... Today's sociopolitical environment, in which oppositional movements are weak and conservatism deeply entrenched, fosters regressive tendencies not only in 'mainstream' society but even among stigmatized and oppressed communities. ... What's so appalling today is that the state has found eager partners among a certain stratum of the gay male population -- mainly white, middle-class intellectuals and activists -- whether they're highly visible New York writers, members of that rare species called 'gay Republicans' or misguided HIV-prevention advocates who welcome police crackdowns on sex businesses."
--George DeStefano reviewing Eric Rofes' new book, Dry Bones Breathe: Gay Men Creating Post-AIDS Identities and Cultures, in The Nation, July 20.
<><><21><><>

"I am gratified that the House has defeated an attempt to overturn my Executive Order providing a uniform policy to prohibit discrimination based on sexual orientation in the federal civilian workforce. This vote reflected the values of our nation. The American people believe in fairness, not discrimination, and the Hefley amendment would have legitimized government sponsored discrimination against its own citizens based on their sexual orientation. It has always been the practice of this Administration to prohibit employment discrimination in the federal civilian workforce based on sexual orientation. Most federal agencies and departments have taken actions to memorialize that policy. The Executive Order does no more than make that policy uniform across the federal government. It does not authorize affirmative action, or preferences, or special rights for anyone. The Executive Order reflects this Administration's firm commitment that the federal government make employment related decisions in the civilian workforce based on individual ability and not on sexual orientation."
--Statement issued by President Bill Clinton, Aug. 6.