Leading the Parade
Jesse Monteagudo's Book Nook
Leading the Parade: Conversations with America's Most Influential Lesbians and Gay Men by Paul D. Cain; Foreword by Jack Nichols; The Scarecrow Press; 403 pages; $55.00.
---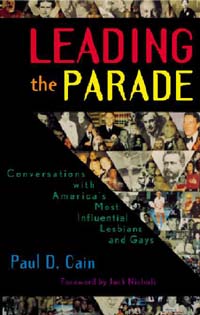 Leading the Parade, Paul D. Cain's in-depth profiles and interviews with leaders of the lesbian and gay movement, is the latest in a sub-genre that began in 1972 with The Gay Crusaders, "by" Kay Tobin Lahusen and Randy Wicker. (Tobin Lahusen did all the writing.)

Since then other books have been written that profiled the leaders of our community, Eric Marcus's Making History (1992; since revised) being the best one. But there is always room for a new collection, especially since our community has a tendency to forget those who got us where we are today.

Happily, Leading the Parade: Conversations with America's Most Influential Lesbians and Gay Men is here to remind us.

For first-time author Paul D. Cain, Leading the Parade is truly a labor of love:

"After seven and one-half years of serving the Phoenix lesbian/gay community, I found myself 'burned out' on direct activism, and I wanted to find a way to serve the community I love while developing talents that lay dormant within me," he notes.

"I realized that as a result of two factors - age and AIDS - we would forever lose the stories of many pioneers and others who influenced the movement if someone didn't document their oral histories, and some we did lose. And without so much as a single contact, I believed I could do it."

Related Stories from the GayToday Archive:
Leading the Parade is Published--Major New History Book

Paul D. Cain is 'Leading the Parade'

Ten Favorite Gay History Books of All Time

Related Sites:
Scarecrow Press


GayToday does not endorse related sites.

Cain began by interviewing the late Jim Kepner, who put him in touch with other activists who in turn connected him with others.

Eventually, Cain "conducted forty-three interviews with men and women (thirty-nine of which are included herein) who have possessed and displayed incredible courage, enviable skills, and unwavering tenacity. While they may have little else in common, all have demonstrated the ability to risk, whether reputation, family, church, or society."

The 39 profiles in Leading the Parade run the gamut of our community's movers and shakers.

Part I, "Starting from Scratch" features the men and women who began the homophile movement in the 1950's (Jim Kepner, Lisa Ben, José Sarria).

Part II, "Building on a Firm Foundation", profiles 1960's leaders (Frank Kameny, Jack Nichols, Ginny Berson).

Part III, "The Written Word", showcases authors and publishers (Barbara Grier, Mark Thompson, John D'Emilio).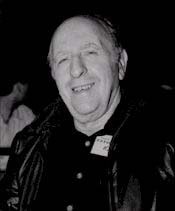 Frank Kameny

Part IV, "Political Creatures", is just that (Ginny Apuzzo, Cleve Jones, Barney Frank). Finally, Part V, "Creating a New World", features subjects as diverse as Jack Campbell, Holly Near and Urvashi Vaid.

For the record, six of Cain's subjects - Kameny, Nichols, Del Martin, Phyllis Lyon, Barbara Gittings and Troy Perry - were also featured thirty years ago in The Gay Crusaders. (That book's authors also appear in this book.) Cain ends each chapter with a personal note, reflecting on how each subject influenced his own life as a gay man.

In his Foreword to Leading the Parade, Nichols notes that "[u]pon meeting [Cain], I found myself speaking uninhibitedly, knowing intuitively that he would honorably utilize whatever it was I might say."

Nichols is not the only one who unburdened himself honestly in response to Cain's friendly questions. In fact, one of the most admirable things about Leading the Parade is how frank lesbigay activist leaders - with their histories of infighting and personality clashes - were talking about one another.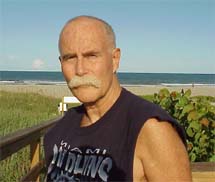 Jack Nichols

Though Cain's subjects don't pull any punches as to what they think of their less-admirable colleagues, even the most disliked and controversial ones - Dorr Legg, Hal Call, Dick Leitsch, Robin Tyler, Martin Duberman - are given their due for their contributions to the cause.

I have two complaints about Leading the Parade, neither one of which is Cain's fault. Though the book does an excellent job with the 39 men and women that it profiles, it is far from being a complete roster of "America's most influential lesbians and gay men."

Death, primarily AIDS-related, has taken away many of the male leaders of the 1970's and 1980's; so much so that Leading the Parade is deficient in its coverage of that particular facet of our movement. Other gay notables, like Harry Hay, were not approached or turned down an interview, for a variety of personal and other reasons. And of course space constrains kept some people that Cain did interview from appearing in his finished book. Hopefully, they and others will appear in a sequel.

The other complaint I have about Leading the Parade is that it is too expensive! I realize that Scarecrow Press manufactures books for the library trade, which explains the $55 price tag. Nevertheless, the high cost of the book will keep many people from buying, reading and enjoying Leading the Parade. This is especially true of young, lesbigay and trans people, who are coming to terms with their sexuality and who could benefit from reading inspiring tales about our community's role models.

For that reason I was happy to learn that Scarecrow plans to halve the current price of the book (to $27.50) as soon as the first 1,000 copies are sold. In the meantime, ask your local library to carry Leading the Parade. As a research tool, it is invaluable.
---
Jesse Monteagudo is a freelance author and book lover who lives in South Florida with his longtime companion. He can be reached at jessemonteagudo@aol.com.