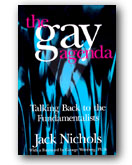 This selective use of information is nowhere more evident than in the Radical Right's use of Biblical references to make its case. Nichols points out that the same fundamentalist who would gladly reinstate the death penalty prescribed in the Book of Leviticus for same sex couples conveniently ignores other peculiar Biblical commands found in the same Old Testament book, such as that in Chapter 23, verse 30, which demands the death penalty for those who work on the Sabbath, or (lest that leave anyone out) that any offspring (child or adult) who curses his parents must die (Lev. 20:9).
Nichols reminds us that not everyone agrees that the separation of church and state is an ideal thing; the Catholic Church enjoys the position of state religion in many countries of the world, and Protestant preacher Jerry Falwell, referring to the theocracy that oppresses the people of Iran, offers "something ten million worlds better (than) a Moslem state, a Judeo-Christian state."
This is the same Christian minister who stated: "AIDS is God's judgment against homosexuals." (Pope John Paul II, when asked by reporters if this was so, replied "It is not easy to know the intentions of God," while on the same day the Vatican's newspaper asserted that AIDS is "a kind of sanction by Nature."
As the author points out, all this hate and fear makes an effective fund-raising ploy. Hometown preachers and televangelists promise to use contributions to put a stop to sinister gay plots, stirring fears about the imaginary growth of a latter-day Sodom and Gomorrah. While FCC prohibitions protect other minorities against hate broadcasting, no federal laws protect gay men and lesbians. This even though hate crimes against homosexuals have soared statistically in recent years while, at the same time, fundamentalist calls for the death penalty for homosexuals are regularly repeated on Christian TV networks. Nichols quotes the venomous anti-gay ranting of one such Sunday morning preacher:
They are like rats, skulking in their closets, copulating in mad frenzies, unable to control their appetites, sniffing around the doors of school classrooms for fresh prey. Young prey. They are perverts and hedonists and will make fine kindling in Hell. But before then, before God gives them what they really deserve, they must be stopped here on Earth.
In his concluding chapters, Nichols calls on reasonable conservatives and non-fanatic religious leaders to speak out against the hate-mongers in their ranks, stresses the importance of grass-roots political activism, and points out that our only hope of equal treatment is in the passage of legislation that would protect our rights.
It's wise to know your enemy, and while this book really doesn't offer anything new, it's a well-organized overview, and should make an excellent primer for anyone preparing to take on religious conservatives in their families or at their workplace. The author's sincerity can come across as over-earnest at times, but this is more an observation than a criticism; the author is well-informed and confident in his knowledge, which is the important thing here.
---
(Courtesy of MANDATE Magazine, August, 1997. Subscriptions $59.95 annually, and available through Mandate Publications, Ltd. 462 Broadway, 4th Floor, New York, New York, 10013)
---