'The Elusive Embrace'
& Other Books in Brief
Jesse Monteagudo's Book Nook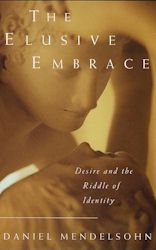 Daniel Mendelsohn is a Jew, a gay man, and a classic scholar. All his roles come to play in The Elusive Embrace: Desire and the Riddle of Identity (Knopf; $24). Like many gay men, Mendelsohn grew up in the suburbs and moved to the city.

Unlike many gay men, Mendelsohn eventually returned to the 'burbs, albeit on a part-time basis. The Elusive Embrace uses classic myth to compare and contrast Mendelsohn's weekdays amidst the muscle boys, gyms and on-line cruising of New York's Chelsea district with weekends in New Jersey, where Mendelsohn helps raise a friend's son.

The Elusive Embrace also looks back at the struggle between his Orthodox grandfather and his assimilated father; and even solves the mystery of a great-aunt's death. That's a tall order for a mere 240 pages, but Mendelsohn manages to pull it off, due in no small part to his ability to integrate his talent, his erudition, and his component parts.

Empowering the Tribe: A Positive Guide to Gay and Lesbian Self Esteem by Richard Pimental-Habib (Kensington; $12) is the latest in a series of self-help books that currently flood the LesBiGay market. Self-esteem has always been a big issue in our community, so Dr. Pimental-Habib is right to note that the lack of self-esteem is behind many of our problems.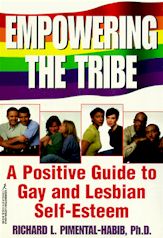 Using the "Real Life Stories" of "real life" lesbians and gay men, Pimental-Habib charts the path toward greater self-esteem, emotional well-being, and spirituality. Even tired old topics like coming out, relationships, parenting and grief are given a new spin in Empowering the Tribe. Like another recent Kensington Publication - Every Man forHimself by Orland Outland - Empowering the Tribe is blessed with catchy cover photos which by themselves are almost worth the price of the book.

Another self-help book that's worth its price is Are You Ready?: The Gay Man's Guide To Thriving in Midlife by Rik Isensee (Alyson; $13.95). Isensee's previous books, Love Between Men and Reclaiming Your Life, were written for gay men of all ages.

Are You Ready?, on the other hand, is written for those of us who have reached middle-age. Like Richard Pimental-Habib in Empowering the Tribe, Isensee makes his points with the help of a dozen or so "real life", gay mid-lifers, who integrate their stories within the body of the book.

Surprisingly little has been written about gay men and middle age; gay culture seems to reward youth and discard age; while AIDS has denied too many of us the opportunity to live to middle age. Are You Ready? fills a major gap in the literature of same-sex lovin' men; helps us who are working through our mid-life crises; and encourages younger gays who think there is no life over forty.

I always welcome a new book by Samuel R. Delany. Though "Chip" Delany is best-known for his award-winning science fiction, he is also an accomplished essayist and memorist. A case in point is Times Square Red, Times Square Blue (New York University Press; $19.95).

Unlike some snooty queens whose names I will not mention, Delany is not ashamed to write about his experiences cruising the porn theaters that used to dot New York's Times Square. In its heyday, Times Square was a great democratizing force, allowing men of various races, classes and sexualities to connect, even if only for sex.

Related Features from the GayToday Archive:
Review: Same-Sex Love: The Anthologies

Leyland Publications

Book of the Century: The Homosexual in America

Related Sites:
International Gay & Lesbian Review
GayToday does not endorse related sites.

Both the men and the theaters are mostly gone now, victims of AIDS and of Mayor Rudolph Giuliani's urban-renewal program. They survive, after a fashion, in the published memoirs of Prof. Delany and in the unpublished memories of other men.

Advice columnist Dan Savage took time off from writing his syndicated column to adopt a child. This in a sentence is the plot of The Kid: What Happened After My Boyfriend and I Decided to Get Pregnant: An Adoption Story (Dutton; $22.95).

Boyfriends Savage and Terry Miller, seeking to fill a void in their lives - and incidentally give Savage something to write about - decide to adopt a child. Fortunately for them, Savage and Miller do not live in Florida.

Ever better, they live in Oregon, which has an "open adoption" program that allows the birth mother to stay in contact with her child and his or her adoptive parents. Since we already know that the adoption went through, there is not much suspense in The Kid.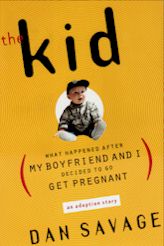 Still, Savage is incapable of writing a boring book, and The Kid does not fail to delight us with its author's view of relationships - he prefers "boyfriend" to "lover" or the currently chic "domestic partner", parenthood, in-laws, homeless teenagers, "cultural Catholicism" and even bacon bagels.

A couple of fiction titles caught my attention. Besame Mucho: New Gay Latino Fiction ($15) is a new offering from a new publisher, Painted Leaf Press. Editors Jaime Manrique - who knows a thing or two about gay Latino fiction - and Jesse Dorris did their homework, uncovering some good stories by the likes of Ramon Ariza, Emmanuel Xavier, Adan Griego and Manrique himself.

Hardball: About America's Two Favorite Passtimes (Alyson; $12.95) has very little baseball, but what the heck. Instead, first-time novelist T. Hitman delights us with his randy tale of raunchy ball players who seem to spend more time in each other's beds than on the field of dreams. Is that a bat in your pocket or are you happy to see me? Hardball gives new meaning to the phrase "build it and they will come."