By Rex Wockner
International News Report

Rep. Barney Frank & Partner
Visit Jerusalem's Gay Center

Openly gay U.S. Rep. Barney Frank, D-Mass., and his partner made an appearance at Jerusalem Open House, the city's gay community center, in mid-January.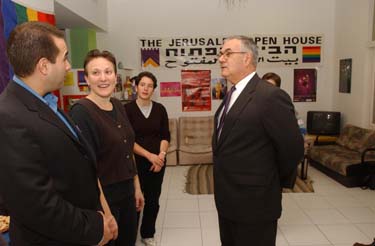 U.S. Rep. Barney Frank in Jerusalem
Wockner News Service Photo Courtesy of Flash 90 Photos and The Jerusalem Open House

Frank was in Israel on official business, meeting with the Israeli president and prime minister and the president of the Palestinian Authority.

"Congressperson Frank praised the work being done at the Open House in promoting LGBT rights, particularly efforts towards including gay and lesbian persons of all religious and ethnic background," the center said in a press statement.

"He strongly urged the Open House to actively pursue the political struggle for human rights, and cited the gay-friendly approach of the IDF [Israeli military] as an example he would proudly use in his deliberations in the U.S. regarding a change in the U.S. military stance 'Don't ask, Don't tell.'"
---
Norwegian Finance Minister Marries Partner

Norway's finance minister, Per-Kristian Foss, married his boyfriend January 4 under the nation's registered-partnership law.

The law grants more than 99 percent of the rights and obligations of marriage.

Foss, a Conservative, is the first member of the national government to enter into a gay marriage. He and Jan Erik Knarbakk tied the knot at the Norwegian Embassy in Stockholm. They have refused requests for interviews.

"It is a private matter," Foss told the Dagens Naeringsliv newspaper.

The wedding may be one for world history books as well.

"We think that this is the first time that a cabinet minister anywhere has entered a [gay registered] partnership," said Ragnhild Samuelsberg of the Norwegian Ministry for Family and Children's Affairs.

Related Stories from the GayToday Archive:
An Argument with Barney Frank

Hate Loves a Small Target

Vatican Council Calls Gay Relationships 'Deplorable'

Related Sites:
Jerusalem Open House
GayToday does not endorse related sites.

Nations that grant many, most or all marriage rights to same-sex couples include Canada, Denmark (and Greenland), Finland, France, Germany, Hungary, Iceland, The Netherlands (the only nation where gay couples, including foreign residents, can marry under the same laws as straight couples), Norway, Portugal, Sweden and, in the United States, the state of Vermont.