By Rex Wockner
International News Report

China's Gay Millions Flock to the Internet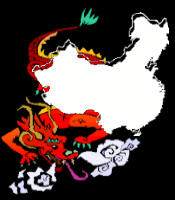 China now has 150 gay Web sites and the largest one--Guangzhou Comrade www.gztz.org --has pulled in more than 1 million visitors, the Baltimore Sun reported Feb. 27.

"Collectively, the Web pages are accelerating the development of a nascent gay community in a country where homosexuality remains largely taboo and the leadership has little tolerance for independent organizations," the paper said.

"For many homosexuals, cyberspace has been an epiphany. Men describe tapping the words 'gay' and 'China' into the Yahoo! search engine and watching in awe as a new world spreads across their screens."

Another popular site, Red Dust www.nease.net/~jwind/ provides maps of gay meeting places in major cities.

But most gay Net users arrange in-person hook-ups online these days rather than using the traditional approach of cruising public toilets, the Sun said.
---
Latvian Leader Says Gays are Sick

Skele was strongly criticized for his remarks and he later backtracked somewhat, saying: "At the same time we have to understand that according to the culture, traditions and understanding in the European Union, it is impolite to ask somebody how they spend their intimate life. If a person does not declare it, then it is indeed impolite to ask.

"As a leader of the People's Party I did not change my [anti-gay] views but also it is not my intention to approach a person and to question how they construct their sexual life and whether their orientation is in accordance with the position of the People's Party."

In a third interview, Skele continued: "As a prime minister I have a duty to provide equal treatment toward people of different nationalities, religions and sexual orientations. In my official capacity I cannot allow discriminatory statements, especially if such people [homosexuals] do not create any problems for their colleagues. It is known that prosecutions because of a person's sexual orientation are not allowed in the countries of the European Union and in world practice. It is also known that a penalty for homosexuality was removed from the Criminal Law of Latvia, and homosexuality is not considered a crime as it was in the Soviet time."
---
El Salvador Told to Provide HIV Medications

The Inter-American Commission on Human Rights in Washington, D.C., has told the government of El Salvador to supply anti-HIV medications to 26 Salvadorans who had petitioned the body last September.

In a temporary ruling, which will remain in effect for six months while the case proceeds, the commission instructed the government to "provide medical attention necessary to protect the life and health of Jorge Odir Miranda Cortez and the other 25 aforementioned people. ... In particular the Commission solicits that your illustrious government provide anti-retroviral medications necessary to avoid the death of the aforementioned persons, as well as hospital attention, other medications and nutritional support which strengthen the immune system and impede the development of illnesses and infections."

As a signatory to the American Convention on Human Rights, El Salvador is expected to comply with the ruling by March 15.

At least 1,500 other Salvadorans are believed to need anti-HIV treatment. Only about a third of them are insured by the government health agency.

"It will be very important to see how this plays out," said Central American AIDS activist Richard Stern, who is based in Costa Rica. "This situation is parallel to that in many Latin countries where only a relatively small percentage of individuals have access to the social-health system."