By Rex Wockner
International News Report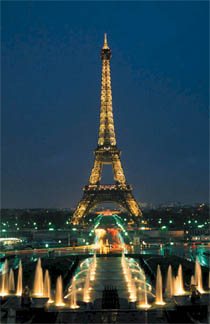 In addition to the election of openly gay Mayor Bertrand Delanoe March 18, Paris also elected a transgendered woman to the City Council.

Camille Cabral won the seat for the 17th arrondissement. She is the first known transgendered person elected to public office in France.

"This is historic for the transgender community," Cabral told Gay.com France. "But I don't put my sexual identity first. Above all, I am a citizen."

Delanoe, a 50-year-old Socialist, came out in a 1998 TV interview.

"Yes, I'm a homosexual," he said. "Perhaps I'm underestimating the consequences of the discussion we are having today, but I'm 48 years old. ... I must live with my convictions ... and my career has never been the most important thing to me."

Delanoe campaigned on the slogan "Let's Change Eras." He promised reduced smog, more parks, fewer cars, protected pedestrian zones along the Seine River, less dog poop on the streets, more day-care centers and renewed cultural vitality.

"Today Parisians freely chose change in the capital," he said following his victory. "Tonight hearts are moved among all those who for so long dreamed of putting Paris back on the road of the future, the road of imagination and of hope."

Delanoe works out, enjoys soccer, smokes cigars and likes to stroll in the city.

Related Stories from the GayToday Archive:

Paris Elects its First Openly Gay Mayor, a Socialist

19 Year Old French Tennis Pro Comes Out

Pride Marches: Fribourg, London, Cologne & Marseille

Related Sites:
Rex Wockner News

GayToday does not endorse related sites.

"With an openly gay mayor [and] gays and lesbians dancing to 'I Will Survive' under a rainbow flag in front of City Hall ... some are having a hard time believing their eyes and ears," wrote Gay.com France Editor Olivier Monnot. "Sunday night was a taste of something never seen before."