By Rex Wockner
International Report

Male Rape Up in Australia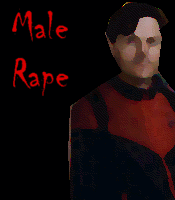 A third of sexual-assault victims seeking help from the largest victims' support service in the Australian state of Victoria (where Melbourne is) are male, the Herald Sun reported June 16.

"We have found the number of men who are victims that we really didn't know about to be absolutely amazing," said Liz Bishop, a governmental ministerial adviser working with the Victims Referral and Assistance Service (VRAS). "It really has surprised everybody."

VRAS Victim Services Supervisor George Halkias said men have become more willing to discuss sexual attacks.

"There's been a change in that macho mentality and a lot of guys are willing to open up a bit more these days and have a chat about it," he said.

Victoria Police recorded 809 rapes on females and 105 on males during 1997-98. There were 3,664 non-rape sex offenses of which 955 were on boys or men.
---
Irish Lesbians Advertise

Speaking to Cork's Examiner newspaper, Thoma said: "There are huge issues for anyone who is lesbian. We still have people trying to lead double lives and no human being should have to do that. ... Lesbians are your sister, your aunt, your shopkeeper, your taxi driver, so it's about all kinds of relationships in society."