Compiled By GayToday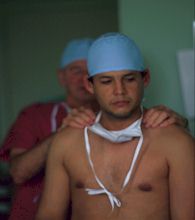 New York, New York--The leading Latino HIV/AIDS agency in New York was effectively forced out of Jackson Heights, Queens - an epicenter of the AIDS epidemic in U.S. Latino communities - because of prejudice against the agency's transgendered clients, the American Civil Liberties Union said in a lawsuit filed today.

The Hispanic AIDS Forum was forced to leave Jackson Heights after the landlord at the office building that housed the agency for 10 years acquiesced to complaints from another tenant that the agency's transgendered clients were using the "wrong" restrooms. (For example, people who identified and expressed themselves as women -- but who were not born anatomically female -- used the women's restroom.) The landlord was unwilling to discuss ways to accommodate the transgendered clients, refused to renew the agency's lease, and began eviction proceedings.

"This is unlawful discrimination - and prejudice with the highest of prices," said Tamara Lange, staff attorney at the ACLU AIDS Project. "This landlord has made it much harder for the Hispanic AIDS Forum to reach the people who need HIV/AIDS services most, and this organization has been forced to pay higher rent and moving costs. That money could have been used to help more Latina/os affected by HIV/AIDS."

Latina/os account for 20 percent of all new HIV cases nationwide, even though 12 percent of the population is Latino. New York, with 9 percent of the country's Latino population, is home to fully 30 percent of the entire nation's Latino population with HIV. Jackson Heights -- which is one of New York's largest gay communities, is 45 percent Latino and has one of the largest concentration of Latina transgendered people in the nation -- is home to many Latina/os affected by HIV/AIDS.

"This epidemic is ravaging Latina/os, and efforts to prevent its spread have to come from within our own communities and reach people where they are," said Heriberto Sanchez Soto, Executive Director of the Hispanic AIDS Forum, at a press conference this morning at the agency's cramped city-wide headquarters in Manhattan. "We can't afford to let prejudice get in the way."

Today's lawsuit, filed in New York State Supreme Court in Manhattan, says the Estate of Joseph Bruno (which owns the building in Jackson Heights), an associated Trust and its Trustees violated state and local laws that prohibit discrimination based on sex, gender and disability. The lawsuit asks for unspecified damages, citing the financial and practical impact the move had on the Hispanic AIDS Forum's ability to reach people badly in need of services.

Related Stories from the GayToday Archive:

Transgender Lobbyists Hit the U.S. Capitol Building

Transgender Equality: A Handbook for Activists Published

Transsexual Amanda Milan, 25, Murdered in Manhattan

Related Sites:
Hispanic AIDS Forum

GayToday does not endorse related sites.

According to the lawsuit, the landlord told Sanchez Soto that the Hispanic AIDS Forum's lease would not be renewed because of complaints from other tenants over "men who think they're women using the women's bathrooms." When asked whether he was referring to the agency's transgendered clients, the lawsuit charges that the landlord replied, "I don't care what they are. They can't use the wrong restrooms."

The landlord insisted that the Hispanic AIDS Forum sign a written agreement that none of its clients would use restrooms in the building. When the agency refused, the landlord began eviction proceedings and the agency eventually moved to Woodside, Queens, which is less central to Latino, gay and transgender communities.

While the agency didn't have an automatic right to renew its lease, landlords are barred from denying space or services based on several protected criteria, including sex, gender and disability, Lange said. "We're aware that this question about bathrooms is socially complicated, but there are many ways to accommodate transgendered people without infringing on others," she explained. "What you can't do is just get rid of a tenant without ever trying to make an accommodation, which is what this landlord did. The first step should have been education and dialogue -- not eviction."

Also at this morning's press conference, activists who for years have tried to amend New York City's anti-discrimination ordinance to explicitly include transgendered people said today's lawsuit illustrates the need for clearer laws. Much of the debate over the expanded legislation has centered on whether it's necessary, with opponents of the new legislation arguing that sex discrimination laws already protect people based on gender identity.

Whether or not transgendered people are already covered under sex discrimination laws, activists said today, a more explicit local ordinance might have prevented the eviction from happening since a law which explicitly included protections for transgendered people might have told the landlord and its lawyers that the eviction would be illegal.

Today's case is Hispanic AIDS Forum v. Estate of Joseph Bruno.