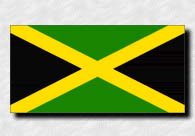 You wouldn't choose to spend time at the General Penitentiary in Kingston, Jamaica. A old, sprawling brick fortress on Montego Bay, it is desperately overcrowded, steaming hot by day, and often cold and damp by night. A typical cell is four feet by eight, and holds three men. Ventilation is poor. For most inmates, there is little time out of the cells. The toilets are buckets.
You especially did not want to be at the General Penitentiary-- or at St. Catherine District Prison, 13 miles to the west, in Spanish Town—August 20th to 23rd. That was when inmates at the two prisons went on a rampage, killing 16 men, most of them singled out as being homosexual. Many were burned to death, some were stabbed or beaten. Around 40 others were injured, some gravely.
Where were the guards? From Tuesday, August 19th through Thursday the 21st, they were on a wildcat strike, to protest what they felt was a gay-baiting jibe by Colonel John Prescod, Jamaica's Commissioner of Corrections. At a press conference the week before, Prescod unveiled a plan to combat AIDS, a growing problem in Jamaican jails. Condoms were to be issued, the Commissioner announced, to inmates and warders alike.
The implication that guards and prisoners were having sex together did not go down well with either. For the past two years, Prescod and his warders have had stormy labor relations over wages and working conditions, which for the warders are quite poor. Walkouts and work slowdowns have been frequent. Numerous times, soldiers from the Jamaica Defense Force have been called into the prisons to keep order.
Most would wager that Prescod was taking an intentional swipe at the guards' masculinity. But perhaps the Commissioner of Corrections was merely incredibly clumsy in introducing an intelligent AIDS policy.
To the guards, however, there was no question. The warders staged a sick-out. The head of their union said his men would stay off the job until Prescod resigned or was fired. In defense of their keepers' honor and their own, most prisoners at the General Penitentiary went on a hunger strike the next morning.
Terror Inside
On Wednesday, warders protested outside the gates of the General Penitentiary. Meanwhile, tensions inside and at the St. Catherine prison were rising. Before walking out, one source says, warders unlocked cells. The Gleaner, Jamaica's main daily, says that inmates broke open locks themselves with bricks. In any case, with the General Penitentiary and St. Catherine running on skeletal staff, bands of men began roaming the two prisons in pursuit of homosexuals. They were easy to find, since openly gay inmates are kept in segregated cell blocks.
By Wednesday afternoon, two prisoners were dead at the General Penitentiary. "Information is that they are threatening to kill all the inmates who are said to be homosexuals," policeman Dacosta Biggs told the Gleaner that day. Police and military went into the General Penitentiary.
But violence escalated. On Thursday, two men were burned to death at St. Catherine prison. In that day's edition of the Gleaner, Commissioner Prescod insisted his remarks about condoms had been misunderstood.
"We see that the country stands to benefit if we encourage our staff to be a part of an active program of prevention to safeguard themselves and their families," the Commissioner declared woodenly. "So any misunderstanding that they may have linked this to is obviously regretted. It was not intended at all for that, but just to consider safe sex to protect them."
"No inference whatsoever should be drawn to link warders with inmates or with homosexuality, within or outside of the institution," Prescod went on.
The next day, on Friday, warders came back to work. Things settled down at St. Catherine prison, which is compact and comparatively easy to patrol. But at the General Penitentiary, a compound with cell blocks scattered in many separate buildings, the violence continued despite the return of the warders and the presence of extra police and soldiers. On Friday, there were two more killings. On Saturday afternoon, there were nine.
In some instances, attackers herded doomed inmates into cells, bound their hands and feet, and piled in foam rubber mattresses, which then were set on fire. Other prisoners were stabbed to death with makeshift weapons and cutlery taken from the prison kitchen.
According to the Gleaner, the violence was taking on a more general character, with rival gangs exploiting the anarchy to settle scores. On Sunday, groups of inmates at the General Penitentiary clashed with rocks and improvised machetes in the presence of warders and soldiers, the paper reported. Outside the prison, relatives of inmates pleaded with guards to prevent further killings.
By the time order was restored on Monday at the General Penitentiary, 16 men in all had been killed at the two prisons.
Authorities launched an investigation, and by the middle of the week, 15 prisoners at the General Penitentiary had been charged in the murders, and ten at the St. Catherine District Prison. The cases are pending.
The Cultural Background
Jamaica has a reputation for being deeply troubled by male homosexuality, more than any other Caribbean country. It is a situation Jamaicans readily acknowledge.
"It's a culture that's compulsively homophobic," says Michael Linden, a Jesuit priest in Kingston who has worked at the two prisons. "The population is so insecure about many of its common mating practices and gender roles, that homosexuality just ends up being an unfortunate target."
While there is a homosexual underground, and some tolerance for gay men who stay deeply closeted (lesbianism is mostly just invisible), there is no public gay culture Jamaica.
What homosexual networks do exist function in the shadow of violence. Somewhere between six and 15 men are lynched in Jamaica's cities every year simply for being gay, estimates Linden. Such lynchings are typically conducted, not by mobs, but by small neighborhood posses. The spark may be offense at a perceived pass, or a sense that a gay man's behavior has gone over the line. Lynchings are not infrequent in Jamaica, for alleged thieves and other malefactors. Vigilante killings almost never make the news.
What are the sources of this homosexual anxiety? Jamaicans and students of Jamaican society give a variety of answers. One factor is the confluence of West African and English cultures, together with a heavy overlay of God-fearing Christianity, says Prof. Jean Fuller Stanley, coordinator of the Jamaican Reality program at Roxbury Community College in Boston. Others note a tendency for Jamaican boys to be highly feminized during childhood, cared for disproportionately by women, with fathers tending to be distant and, when present, harsh. Some cite the distortions of slavery, the Jamaican form of which was especially brutal, on family and gender relations.
Whatever the underlying causes, Jamaican's sexual antennae tend to be highly sensitive. "When I was there I sensed that sexuality was very much on the top of the scale of things that people are aware of all the time," says Richard Landoli, an immigration attorney and former priest who worked at the General Penitentiary in the 1970s. "It gets mixed up right at the top of the soup."
But the situation of homosexuality in Jamaica isn't simply one of hostility and repression. "There is a lot of what I call gender and age-group socialization," says Prof. Stanley. "Boys of a certain age group, for instance, will all tend to play together, go the river together, or whatever." It is in part the intensity and implicit erotic charge of male same-sex and same-age relationships, she suggests, that makes overt homosexuality so threatening.
"The anti-gay sentiment in Jamaica is there, but that's where I came out myself, and I was always overwhelmed by the homoeroticism that could be found all around," says Joseph Owens, an ethnographer who has lived on the island and has written about the Rastafarians. "In the 14 years that I've been in the Caribbean and Central America, I've found nothing comparable to it. "
Out of the Blue
Despite the backdrop of anti-homosexual feeling in Jamaica, August's brutality came as a surprise. "I have heard comments that the soldiers and authorities were shocked since that group was normally very cooperative," Linden says.
At the General Penitentiary and St. Catherine prison, homosexuality has not been a flash-point for violence before. People who get beaten or killed in prison tend to be troublemakers. But the homosexual prisoners at both institutions as a whole got along well, with guards and other inmates alike. As a consequence, they tended to receive higher-status jobs and classifications, giving them fewer restrictions and relatively more freedom of movement-- factors which increased their vulnerability when the killing began.
It is possible that those targeted during the uprising were selected particularly because they were known to be HIV-positive. Prisoners' HIV status was supposed to be confidential, but some speculate the information had spread around.
The mood in the prisons now is quiet but tense. Visitors are closely watched, and all conversations are monitored. "Authorities don't want stories getting out," Linden says, partly to ease tensions, partly to avoid more bad press.
But the killings were remarkably underplayed in the Jamaican media, and indeed, internationally. They were never the lead story in the Gleaner. The prime minister offered a public apology to the families of the dead and injured, but generally the reaction domestically has been muted. Corrections Commissioner Prescod, whose inopportune comments sparked the rampage and on whose watch it occurred, remains in his job. The warders union has not publicly expressed mortification at the consequences of their walkout.
"For the most part the warders are decent human being who aren't treated very decently," says Linden. "As decent human being, they recognize there were a lot of mistakes made. On the other hand, as industrial actors, they're saying this is part of the price that has to be paid for improvement in their situation."
Justice Minister K.D. Knight said on September 9 that he would appoint a three-member commission to investigate the riots. Families of some of the dead say they will sue the Jamaican government.
For all Jamaica's troubles over homosexuality, last month's killings were not so much a disaster waiting to happen as a disastrous constellation of circumstances. But there's little evidence the tragedy will alter the volatile mix that fueled August's fires.
_______________________________________________________________________
Reprinted Courtesy of The Guide, PO Box 990593, Boston, MA 02199 USA; tel 617-266-8557; e-mail: theguide@guidemag.com.
_____________________________________________________________________________