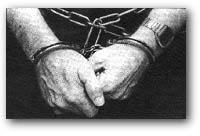 INVESTIGATORS: JAMAICAN GUARDS & PRISONERS WERE HAVING SEX
Jealousy over favors guards bestowed on prisoners they were having sex with sparked August's prison riots in Jamaica, police investigators told a commission of enquiry October 23.
Sixteen inmates were killed -- by other inmates who thought they were gay -- and 40 were injured in the melees at Kingston's General Penitentiary and Spanish Town's St. Catherine district prison.
Violence broke out after Corrections Commissioner John Prescod proposed distributing condoms to guards and inmates. The guards went on strike to protest the implication they were having gay sex and the inmates seized control.
Early reports said the inmates, too, were upset over the suggestion of gay activity but police Superintendent DaCosta Briggs testified that the anger actually was fueled by the special treatment guards lavished on their sex partners, including letting them roam the compounds until 11 p.m. and sending them outside the prisons on errands.
SCOTTISH GAYS PROTEST ZIMBABWEAN PRESIDENT MUGABE
Gay groups protested against anti-gay Zimbabwean President Robert Mugabe outside the Commonwealth Heads of Government Conference in Edinburgh, Scotland, Oct. 25.
"They welcome an arch-homophobe who states that homosexuals are worse than dogs or pigs!" said a spokesman for the gay group Outright Scotland.
Mugabe has called homosexuals "repugnant to my human conscience.. immoral and repulsive." He has declared gay sex "an abomination" and "sub-animal behavior" and urged citizens to "hand [gays] over to the police. ... I don't believe they have any rights at all," he stated in 1995.
AUSSIE COURT OVERTURNS INSEMINATION RULING
A ruling that had granted lesbians access to insemination clinics was overturned by Queensland Supreme Court Justice Brian Ambrose October 24 in Brisbane, Australia.
An Anti-Discrimination Tribunal previously had found that a medical practitioners service company and a doctor had discriminated against a 26-year-old woman by refusing to inseminate her.
State Health Minister Mike Horan welcomed the new ruling, saying, "I strongly support that view that every kid should have a chance to have a father from the outset."
---
Rex Wockner's weekly International News dating back to mid-1994 is fully searchable at http://www.wockner.com
---