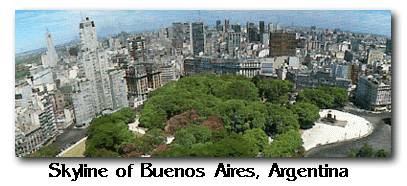 2,000 MARCH IN BUENOS AIRES
Two thousand marchers turned out for Buenos Aires, Argentina's Sixth Lesbian, Gay, Transvestite, Transsexual and Bisexual Pride Parade November 1.
Several other cities were represented as well, including Rosario, Tucuman, Jujuy, Cordoba and Montevideo, capital of neighboring Uruguay. Among the 50 marchers from Rosario were members of the new group Mothers, Fathers and Friends of Lesbians and Gays.
The parade began at historic Plaza de Mayo and ended in front of Parliament.
"A kiss-in was staged to repudiate all forms of institutional violence against GLTB people," correspondent Alejandra Sarda reported via e-mail. "It ended up being a joyful demonstration of our free-going, boundaries-blurring natures, with everyone kissing everyone -- journalists and heterosexual allies included."
Like in the old days in the U.S., TV crews fixated on drag queens. "But they took the opportunity to denounce the brutal treatment they receive from policemen all across the country," Sarda said.
GAY GAMES SAYS MALES WELCOME
The media-relations team of the 1998 Gay Games in Amsterdam says males are not, in fact, currently prohibited from registering, except for badminton.
Reports to the contrary (including by this news column) resulted from a loose translation on the English summary page of the Dutch gay newspaper De Gay Krant, said Gay Games Media Officer Paul van Yperen.
De Gay Krant's brief English report said: "Over 70 percent of the contestors are men, so the organization now has a registration stop for male participants."
But according to De Gay Krant editor Hans Van Velde: "The large Dutch article with the Gay Games roundup that I wrote was reduced by [our translator] to five lines for the summary. I wrote that 71 percent of the registrations were made by men. Because the organisation wants to have at least 40 percent women, this means that for certain sports men had to wait on their turn and women get the advantage. This information was offered me by Paul van Yperen, PR co-ordinator at the Gay Games organization."
But even that is not exactly right, van Yperen now says.
"Only for badminton there is a waiting list for men," he wrote via e-mail. "For 28 sports (ice hockey is full) and many cultural activities men can register at the moment. ... We get and got many worried questions from participants about the rumour that we halted registration for male participants.
"'For certain sports men have to wait for their turn' ... is not a ban or a 'halt' to male registration," van Yperen argued. "Because 50% of the places are reserved for women until January 1st 1998, some male participants could be placed on a waiting list. ... January 1st 1998: Second phase of registration: no reserved places."