Hypocritical Pastor Convicted & Faces Prison Sentence Up to 26 Years
Pastor Daniel Garnicki Led Florida's Largest Demonstrations Against Gays
Bob Kunst, Miami's veteran gay activist was arrested last year as he stood with his placard near a public fountain where angry anti-gay followers of Miami's foremost gay-baiting churchman, Daniel Garnicki, shouted antigay slogans.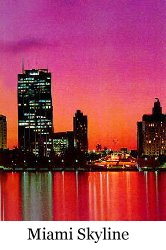 Garnicki's 1,000 member flock, members of the Camino de Santidad (Holy Way Church) was demonstrating against a gay civil rights plan that had gone before the Metro Commission. That plan, in great part because of Garnicki's "religious" influence, was turned down by the Commission.
Monday, as news reports about the anti-gay "Christian" minister's conviction for raping a 15-year old girl flashed across this southern city, an elated Kunst told GayToday:
"This conviction is a immense victory for South Florida's gay communities. It clearly shows that the Metro Commission was influenced by the wrong person, a big-time sex hypocrite."
Garnicki was quoted in the Miami Herald (April 14) as saying that the city's gay community was "behind the accusations against him."
The Oral Majority director called 35 year-old Pastor Garnicki "a role model of the sexual witchhunt holding the nation hostage" in such places as Washington, D.C. where Kenneth Starr is harassing President Clinton.
"Garnicki's conviction," Kunst said, "is a major setback to the stupid gang attacking everyone's sex lives. The accusers have now become to accused!"
"Pastor Garnickiâ??a holier than thou hypocrite– has gotten his just deserts," Kunst explained to reporters.
Prior to the day when Garnicki's trial began, 200 of his followers had gathered outside the Metro Justice Building, praying and swaying to the sound of drum beats and tambourines.
Inside the building, the minister's flock filled the halls and the courtroom with picket signs reading "Pastor Garnicki is innocent" and "With God, all things are possible."
The clergyman's lawyer promised to prove that the minister's accuser was a liar. Prosecutors, however, presented preliminary evidence including the testimony of a Holiday Inn clerk who identified Garnicki and his 15-year old victim as they checked both in and out of their hotel room.
The young victim said that Garnicki had shown her an X-rated movie prior to his attack on her. She described the movie in detail. Hotel records verified that Pastor Garnicki had not only been present in the hotel, but that he had ordered through pay-for-view Raw Flesh, precisely the adult film described by the girl.
Miami's CBS news (Channel 4) and Fox (Channel 7) showed members of Garnicki's church screaming and crying over the guilty verdict. Garnicki's wife speculated on the future of alleged children she says Garnicki had saved from gangs and drugs. She feared that without him they'd soon revert to their old ways.
By Jack Nichols