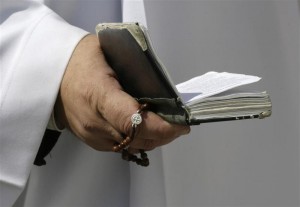 Philadelphia Archbishop Charles Chaput stripped five priests of their duties and apologized to their victims on Friday following an investigation into a pedophilia scandal that has rocked the Roman Catholic archdiocese.
The sanctions come as the archdiocese nears the end of its investigation into 27 priests who were put on leave when a January 2011 grand jury report raised questions about their possible involvement in abusing children.
Chaput said five of the cases were substantiated in the investigation, and those priests would be barred from public ministry, meaning they can no longer perform duties such as saying Mass. They can appeal to Rome, and later could be defrocked.
Another three priests under investigation were cleared. One priest named in the grand jury report has since died.
Chaput, who said he has spoken with those priests whose cases have been resolved, apologized for a scandal that has rocked the church.
"I have in the past and will here today share my deep sadness and offer my heartfelt apology on behalf of the Archdiocese to all victims of clergy sexual abuse," he said at a news conference.
"The process of reviewing these cases was designed to ensure that the decisions announced today reflect our commitment to protect children, assist victims, restore the integrity of the priesthood and provide evidence to the broader community that they can have confidence in these outcomes," he said.
Among those caught up in the broader scandal is Monsignor William Lynn. He is standing trial on charges of child endangerment and conspiracy over accusations he covered up abuse allegations against priests, many of whom were simply transferred to unsuspecting parishes.
His trial is in its sixth week and testimony is continuing. He faces 28 years in prison if convicted of all counts.
Chaput said the investigation into the remaining cases brought up by the grand jury should be concluded within weeks.
Chaput's predecessor, Cardinal Justin Rigali, put all 27 clerics on administrative leave pending the outcome of the investigation.
PHILADELPHIA, Pennsylvania (Reuters) – (By Dave Warner; Editing by Paul Thomasch and Xavier Briand)