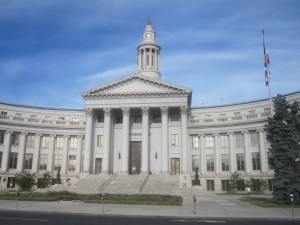 Supporters of a Colorado bill to grant legal rights to same-sex couples raced to see the civil unions measure pass the legislature before the clock runs out on the session on Wednesday.
The bill on Tuesday cleared an important hurdle in the state House of Representatives when a lone Republican joined with six Democrats on a key committee to pass it by a 7-6 vote.
A close vote also is expected in the House of Representatives, where Republicans have a one-vote majority – if a vote is held at all. The House must endorse it before the session ends if it is to go to Democratic Governor John Hickenlooper, who has promised to sign it.
Earlier in the session, the Democratic-controlled Senate approved it by a vote of 23-12.
If it becomes law, Colorado would become only the second state in the largely conservative, libertarian-minded Rocky Mountain region to endorse civil unions or domestic partnerships for same-sex couples after Nevada did so in 2009.
Nine states already allow such unions, while another eight plus the District of Columbia have gone further and allow gay marriage or are awaiting enactment of laws legalizing gay nuptials.
The Colorado bill would allow domestic partners to make medical decisions for each other and become eligible for certain insurance and retirement benefits.
Action in Colorado came as voters in North Carolina approved a state constitutional amendment on Tuesday that bans same-sex marriage and civil unions, major media projected, dealing a blow to efforts across the country to expand gay marriage rights.
President Barack Obama, who has stopped short of supporting same-sex marriage but has described his position on the issue as evolving, faces mounting pressure to change his stance, especially as his top aides come out in favor of legalization.
A Gallup Poll released on Tuesday showed half of Americans believe same-sex couples should have the same right to wed as heterosexuals, down from a year ago when the organization found 53 percent of Americans favored legalization.
Backers of the Colorado proposal held a rally outside the state capitol on Tuesday, after Republican House leaders said they were unsure if the measure could be heard in time.
"The notion that there's not enough time is a myth," Democratic state Senator Michael Johnston told supporters.
Opponents argue Colorado voters already addressed the issue in 2006 when they rejected a gay marriage ballot referendum, while at the same time approving a constitutional amendment defining marriage as a between a man and a woman.
Supporters have said they believe they have the votes to pass it, and expected several Republicans to back it, if the measure comes to a vote.\vote in favor of the measure if it is allowed to be brought up for a vote.
Last year, a nearly identical bill passed the Senate but was killed by the Republican-controlled Appropriations Committee on a straight party-line vote.
On Tuesday, the Appropriations Committee, the last panel of lawmakers set to hear the bill before it reaches the full House, passed the measure when state Representative Cheri Gerou, a Republican, joined six Democrats in voting yes.
By Keith Coffman
DENVER (Reuters) – (Editing by Alex Dobuzinskis, Cynthia Johnston and Jackie Frank)