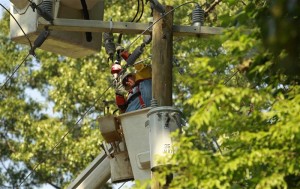 Fourth of July revelers will be met by another day of scorching temperatures on Wednesday, prompting many U.S. communities to cancel annual fireworks celebrations amid fears of heat-related dangers.
Scores of towns and cities in the U.S. West are reeling from wildfires that have claimed lives, charred hundreds of homes and displaced tens of thousands of people, while others in the Midwest and East swelter under brutal and deadly heat.
In places from Montana to Tennessee, communities have canceled or restricted fireworks celebrations. Others have banned pyrotechnics or advised residents to exercise caution with everything from sparklers to barbecue grills because of the soaring temperatures and dry conditions.
"All it would take is one spark from a shell to get away, and it could go everywhere," said Bruce Jones, the mayor of Douglas, Wyoming, where the annual fireworks display has been called off for the first time in memory. "It's the better part of valor not to do it."
One of the biggest U.S. fireworks parties, held on Washington's National Mall, will go ahead on Wednesday as planned, a National Park Service spokeswoman said.
Meanwhile, from Illinois to Virginia residents were still recovering from last weekend's rare "derecho," a powerful and long-lasting straight-line wind storm that tore across the country from the Midwest to the Atlantic Ocean.
The violent storms and days of record heat have killed at least 23 people in the United States and left millions of people without power since Friday. Utilities warned that power may not be restored for the rest of the week, though fewer than 1.1 million homes and businesses remained without electricity.
In the District of Columbia, some 13,000 customers of local power company Pepco were still without power on Tuesday night, and the city was distributing food to people unable to cook at home.
"Frankly, the people are just fed up with it. I don't have any power in my own home," Washington Mayor Vincent Gray told CNN.
A line of strong thunderstorms moved across the Washington region late on Tuesday bringing severe lightning and heavy rain. Winds of up to 50 miles per hour (80 km/hr) raked trees and wires left fragile by Friday's storm and police evacuated the grounds of the Capitol where rehearsals were under way for Wednesday's concert and fireworks.
The National Weather Service forecast temperatures from 90 degree Fahrenheit (32 Celsius) to more than 100 F (37.7 C) from the Plains to the Atlantic Coast.
The upper Midwest could see more severe thunderstorms like the one that ripped down trees and power lines in northern Minnesota on Monday, it said.
A BUSY FIRE SEASON
Wildfires that have scorched nearly 2.2 million acres so far this year also remained a risk, with hot, dry and windy conditions triggering an early and destructive Rocky Mountain fire season.
In Colorado, still reeling from deadly wildfires that have destroyed more than 600 homes, Governor John Hickenlooper banned the private use of fireworks as areas from Denver's suburbs to remote mountain resorts canceled public displays.
"It feels like the pendulum is swinging and we're getting back into a busy fire cycle," said Kent Frederick, spokesman for the National Interagency Fire Center in Boise.
In the aftermath of New Mexico's largest wildfire on record – a blaze that raged across 300,000 acres in the Gila Wilderness – Governor Susana Martinez renewed calls for passage of a law allowing the governor and local governments to ban fireworks amid stepped-up fire dangers.
"It's a very passionate issue," said Dan Ware, spokesman with the New Mexico Forestry Division. "You've got a lot of the business aspects of it as well as the personal rights aspect."
Many cities in Arizona, where crews were still battling 11 wildfires consuming nearly 58,000 acres, have banned the use of fireworks. That includes the southern Arizona community of Sierra Vista, where a blaze last year torched homes, killed livestock and charred thousands of acres.
Just four states ban the public sale of all fireworks. The industry has experienced growth in recent years of sales to consumers of pyrotechnics that are safer than ever, said Julie Heckman, executive director of the American Pyrotechnics Association.
Fireworks caused 15,500 blazes, resulting in eight deaths and $36 million in property damage, in 2010, according to the National Fire Protection Association.
While fireworks are broadly banned in national forests and parks, federal and state land managers in parts of Idaho, Montana and Wyoming – including Yellowstone National Park – have temporarily banned certain open fires at the height of camping season.
In the southeastern Idaho community of Soda Springs, officials canceled Fourth of July fireworks after a wildfire last week destroyed 95 structures, 66 of them homes, in nearby Pocatello.
"We just felt like it wasn't worth taking the risk," said Randy Johnson, treasurer of the local Rotary club which sponsored the event.
(Reuters) – (By Laura Zuckerman and Edith Honan; Additional reporting by Keith Coffman, Tim Gaynor, Debra Hummel and Zelie Pollon; Editing by Mary Slosson and Cynthia Johnston. Desking by Christopher Wilson)