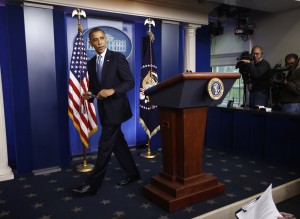 President Barack Obama will stay in Washington on Wednesday to oversee the response to Hurricane Sandy, canceling another day of campaigning roughly a week before Election Day, the White House said on Tuesday.
"The president will remain in Washington, D.C. on Wednesday to monitor the response to Hurricane Sandy and ensure that all available federal resources continue to be provided to support ongoing state and local recovery efforts," White House spokesman Jay Carney said in a statement.
"As a result, the president will not participate in the campaign events that had been scheduled in Ohio tomorrow."
The president had already skipped political events on Monday and Tuesday to be in Washington for the storm and its aftermath.
WASHINGTON (Reuters) – (Reporting by Jeff Mason; Editing by Eric Beech)