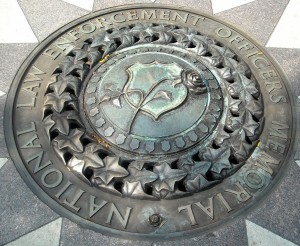 Coming Out From Behind the Badge is an organization and a set of books by Greg Miraglia that deal with the process of coming out as an openly-lesbian, gay, bisexual or transgender police officer, firefighter or EMS professional. Miraglia himself has a lot of experience in this matter: "I started my law enforcement career as a police explorer at the Walnut Creek, California Police Department in 1978. At the time, being gay was a reason to deny someone employment, and of course, the explorers were part of the Boy Scouts of America who continues today to discriminate against gay people. I worked at Walnut Creek PD until 1988 and then moved to the Fairfield, CA Police Dept. until 1998. I started teaching at the police academy at Napa Valley College in 1986 and went their full time in 1999 as the academy director. During that time, I also served as the deputy chief of the Napa Valley Railroad Police Department until 2007. I'm now a dean at Napa Valley College and teach all of the diversity and human relations topics in the police academy as well as the LGBT Studies Program at the college."
Coming Out from Behind the Badge was Miraglia's first book, published in 2007. "My partner, Tony, encouraged me to share my own coming out story as a means of inspiring other closeted law enforcement officers to come out. Although I was living a largely double life for more than 25 years in law enforcement, I did not come out publicly until 2001 at the age of 41. There were no books available at the time showing positive stories of success, so I wanted to provide examples from around the country of out LGBT officers who were successful on the job." Miraglia followed his story in 2011 with a second book, American Heroes Coming Out From Behind The Badge, which includes "stories from firefighters and EMS professionals in addition to more amazing stories from law enforcement."
As an organization, Coming Out from Behind the Badge helps sell Miraglia's books of the same name. It also, according to Miraglia, "focuses on helping individual closeted officers come out by providing individual support and networking. We also are being calling upon to do training and to advise on training for law enforcement agencies seeking to create a more supportive environment for LGBT personnel. By simply being present, we hope to create a greater awareness of the LGBT professionals working in law enforcement today."
"One important part of our organization that was always part of my dream for the books is our scholarship program. In 2009, we started the Out To Protect Scholarship fund that provides the only national scholarship opportunity for out LGBT students currently attending a law enforcement training program. The goal is to reward role models for the LGBT community who are entering law enforcement and who will represent the LGBT community." For more about Out to Protect, visit www.outtoprotect.og
Back during the pre-Stonewall gays, and even post-Stonewall, the LGBT community had an antagonistic relationship with police officers. Stonewall, after all, was our community's response to a police bar raid. To LGBT people of my generation, police officers were often the men who raided our bars and clubs, and who arrested us for breaking all kinds of antigay laws. Happily, according to Miraglia, our community's relationship with law enforcement officers has improved. "The relationship has improved dramatically in many places in the country. The key to this change, I believe, is the visibility of LGBT personnel within the ranks of law enforcement. Laws and policies only punish offenders after discrimination and harassment has occurred. It is the individual role models who come out on the job that can truly change the minds and hearts of those in law enforcement who continue to harbor homophobic attitudes. Today, you see LGBT law enforcement personnel and straight allies marching together in LGBT pride parades. Several progressive departments actually recruit personnel at LGBT events.
The process of coming out as an openly LGBT law enforcement officer, Miraglia notes, "was a gradual process that can be traced back the 1970's after the American Psychological Association (APA) removed homosexuality from its list of mental disorders. New York and San Francisco Police Departments led this movement. The change occurred one person and one experience at a time and it continues to evolve ever so slowly. I believe that the chief makes all the difference. Good examples of positive leadership that can create fast moving change are the Los Angeles Police Department and Los Angeles County Sheriff's Department. Prior to 2000, these agencies were largely homophobic and openly discriminated against LGBT officers. Today, they actively recruit personnel from the LGBT community. The chief and sheriff in Los Angeles have both spoken out in support of LGBT personnel. And these are only two examples."  Here in South Florida, Broward County Sheriff Al Lamberti and municipal police department lead the process in support of LGBT officers.
"I believe homophobia is still pervasive in law enforcement," Miraglia admits. "Even here in California, where I live, there are large agencies who deny having any LGBT personnel working within their ranks. In fact, in the county I now work, there are currently and never have been, any out gay male officers. However, change can happen as soon as even one officer within the department comes out. The amount of awareness and attention that just one person can create will make the difference from that point on." Things are slightly different, Miraglia tells us, for openly LGBT fire fighters or EMS professionals. "I have worked on a year in the fire service and that was part time right out of high school. From what I've gathered from talking to firefighters and EMS professionals, because of the living situation, coming out tends to have another level of complexity to it."
Readers interested in Coming Out From Behind the Badge (the organization and the books) should visit the website:  www.comingoutfrombehindthebadge.com. There you can order signed copies directly from the site or link to the publisher for e-books.
Jesse's Journal
by Jesse Monteagudo
Greg Miraglia: Coming Out from Behind the Badge