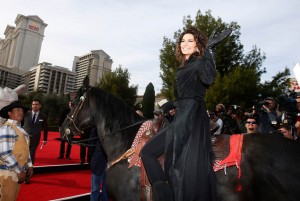 International superstar Shania Twain rides up to Caesars Palace on horseback to greet fans in advance of the debut of her show SHANIA: STILL THE ONE on Dec. 1
For the first time ever, an orchestrated stampede of more than 40 horses stopped all traffic on a portion of the famous Las Vegas Strip as Shania Twain marked her arrival into Las Vegas by making a grand entrance via horseback to her new home at The Colosseum at Caesars Palace.  Fans and visitors lined the street in front of the iconic Caesars Palace fountains to welcome Shania as The Colosseum's newest resident artist.  With Shania's hits "Man, I Feel Like A Woman" and "Still The One" taking over the Strip, the international superstar showed the world that she is ready to rock the Las Vegas stage.
To view the multimedia assets associated with this release, please click: http://www.multivu.com/mnr/58892-shania-twain-at-the-colosseum-at-caesars-palace-in-las-vegas-still-the-one
(Photo – http://photos.prnewswire.com/prnh/20121115/MM10836)
In addition to the legions of fans cheering her on as she made her way to Caesars Palace, Shania was greeted by Gary Selesner, Caesars Palace regional president, John Meglen, president and co-CEO of AEG Live/Concerts West, Jason Owen, Shania's manager, and Raj Kapoor, show director of SHANIA: STILL THE ONE.
One of the world's best-selling female artists of all time, the legendary performer is making final preparations as the countdown is underway for the upcoming debut of her brand new show, SHANIA: STILL THE ONE that begins on Dec. 1, kicking off Shania Twain's two-year residency at The Colosseum at Caesars Palace.
Tickets are still available for performances beginning Dec. 1, 2012. Show dates are:
Dec. 2012: 1, 2, 5, 6, 8, 9, 11, 12, 14, 15
March 2013: 19, 20, 23, 24, 26, 27, 29, 30
April 2013: 2, 3, 5, 6, 9, 10
Prices range from $55 to $250, plus applicable fees, and may be purchased by calling 800-745-3000, online at www.shaniainvegas.com or www.thecolosseum.com and in person at The Colosseum at Caesars Palace Box Office, open daily from 10 a.m. to 10 p.m. PT. For groups of 10 or more, call 1-866-574-3851.
SHANIA: STILL THE ONE, developed by Show Creator and Executive Producer Shania Twain, produced by AEG Live and directed by Raj Kapoor, will take fans on a spectacular journey through the various stages of Shania's life and career in an unforgettable evening filled with music, multi-sensory and visual experiences, fashion and the unexpected. Further contributing to the creative vision of SHANIA: STILL THE ONE is Production Designer Michael Cotton, Costumier Marc Bouwer and Lighting Designer Peter Morse.
For additional show and ticket information, visit www.shaniainvegas.com or www.thecolosseum.com or follow updates from The Colosseum at Caesars Palace on Twitter @Colosseum@CP.
LAS VEGAS, Nov. 15, 2012 /PRNewswire/ –SOURCE The Colosseum at Caesars Palace