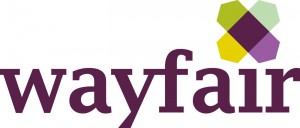 Wayfair.com, the largest online retailer of home products and furnishings, today announced record-breaking Black Friday sales. The company reported more than $3.5 million in Black Friday sales, and a 37% increase in holiday weekend sales compared to Thanksgiving weekend 2011. In addition, Wayfair.com more than doubled the percent of revenue from mobile as shoppers snapped up deals on everything from lamps to barstools to generate one sale every three seconds throughout the day. The company expects even greater momentum today as shoppers seek online savings and deals on Cyber Monday.
"We are geared up for record sales this holiday season and expect to see significant year over year revenue growth continue throughout Cyber Monday and beyond as more and more shoppers discover Wayfair.com," said Niraj Shah, CEO and co-founder of Wayfair.com. "When it comes to finding great deals on an unparalleled selection of home furnishings and literally millions of products for holiday entertaining, decorating and gifting, Wayfair.com offers the best shopping experience possible."
Wayfair.com expects to see another record day today on Cyber Monday as the home furnishings retailer rolls out a number of deals and promotions on popular holiday products. Top selling items from Black Friday included luxury sheet sets, lamps, television stands, game tables, dolls and electronic toys.
BOSTON, Nov. 26, 2012 /PRNewswire/ —