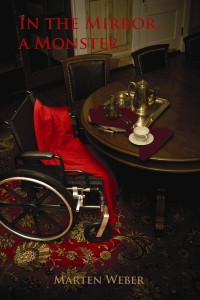 Tim and Tim have been running a gay B&B in Edinburgh for three decades. Their relationship is characterised by kind love and deep trust—they tell each other everything.
A handful of long-term lodgers give their old house a lively character: Jamie, the charming American who won't settle down; Javier, a Spanish cook who prefers pornography to real people; Aleysha, a Ugandan refugee and her newborn baby.
Into this life come two attractive young men from Slovakia. Everybody agrees that they must be a couple—why else would they be staying here? They hug and cuddle, and even kiss without shame.
But there is something strange about them. Before long, Tim and the nosey lodgers are uncovering a secret nobody could have expected. A secret which begins to affect every lodger, and even Tim and Tim, who must come to realise the deception at the very heart of their love. In the end not a single stone of the old B&B is left in its original place.
Marten Weber's most compelling contemporary work to date, In the Mirror, a Monster is a masterpiece of modern storytelling. His style is vivid, with a keen ear for regional voices, and at times has the magical ability to render, with clear compassion, the human frailty behind individual actions and words.