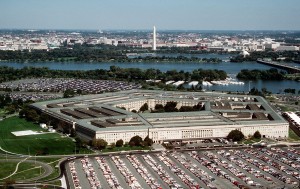 WASHINGTON – In response to news that the Pentagon would be extending certain benefits to the spouses of gay and lesbian military personnel, Human Rights Campaign (HRC) President Chad Griffin issued the following statement:
"We welcome the news that benefits will be extended to the same-sex spouses and partners of gay and lesbian service members, and urge Secretary Panetta to make sure every benefit possible under the law is included.  This is the logical next step in ensuring all our military families are treated with the dignity and respect they deserve."
Since the repeal of "Don't Ask, Don't Tell" in 2010, HRC has called on the Pentagon to change its policies that currently deny many benefits from gay and lesbian service members and their families.  As part of ongoing effort to achieve full equality in the military, HRC has called on Defense Secretary Leon Panetta to issue military IDs to same-sex spouses and extend every possible benefit not specifically barred by the Defense of Marriage Act (DOMA). The revisions would ensure same-sex spouses in the military receive the same benefits afforded all other service members.
Some of the regulatory changes Panetta could make with the stroke a pen include:
•    Housing – Same-sex spouses and partners in the military are currently ineligible for the economic benefits that come with on-base housing, such as rent-free living quarters.
•    Military ID cards – Same-sex spouses and partners are currently ineligible for the identification card that is essential for accessing bases, morale and recreation programs, and a number of other on-base amenities and services.
•    Access to Commissaries and Exhanges – Same-sex spouses and partners can't access the discounted stores where most military families typically save an average of 30 percent on grocery bills.
•    Personnel assignments – Military regulations currently do not include same-sex spouses or partners when considering assignments. However, opposite-sex, dual-career military couples may be assigned to the same geographic reason.
•    Legal Services – Opposite-sex military service members and their families have access to free legal services on a variety of items, including the drafting of wills and serving as advocate and counsel. Same-sex spouses and partners do not have access to these free legal services.
•    Spousal Privilege to Refuse to Testify – The Rules of Evidence in the Manual for Courts-Martial grants opposites-sex spouses the privilege to refuse to testify against one another in criminal cases – a benefit not extended to same-sex spouses or partners.
Such actions have already been taken, for example, by the State Department to extend benefits to the partners and spouses of Foreign Service officers and by OPM to extend sick leave, long-term care insurance, travel and relocation assistance, and other benefits to civilian federal employees.
"The military leadership have dragged their feet long enough," Griffin added.  "Two years after 'Don't Ask, Don't Tell' was relegated to the dustbin of history, it's time for our heroes in arms to finally receive the justice they deserve."
The Human Rights Campaign is the largest national lesbian, gay, bisexual and transgender political organization with members throughout the country. It effectively lobbies Congress, provides campaign support and educates the public to ensure that LGBT Americans can be open, honest and safe at home, at work and in the community.
HRC calls on Panetta to include "every benefit possible under the law"