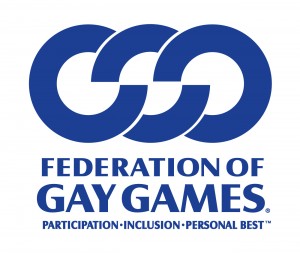 Today the Federation of Gay Games reacted to yesterday's news from the International Olympic Committee regarding the program for the 2020 Olympics. Like many individuals and organizations, the FGG was shocked and dismayed by yesterday's announcement by the IOC that Wrestling will not be on the program of the 2020 Games. This decision illustrates the challenges of devising a program for a multisport event, an issue also faced by the Federation of Gay Games, but with very different solutions.
As reported by the Associated Press, the IOC board acted after reviewing the 26 sports on the current Olympic program. Eliminating one sport allows the International Olympic Committee to add a new sport to the program later this year. The decision was made by secret ballot over several rounds, with members voting each time on which sport should not be included in the core group. AP reports that Wrestling was voted out from a final group that also included Modern Pentathlon, Taekwondo, and Field Hockey.
Writes AP: "The board voted after reviewing a report by the IOC program commission report that analyzed 39 criteria, including television ratings, ticket sales, anti-doping policy and global participation and popularity. With no official rankings or recommendations contained in the report, the final decision by the 15-member board was also subject to political, emotional and sentimental factors."
FGG Officer for Sport Sébastien Datiche (Tours, France), expressed the Federation's surprise at this decision: "Wrestling has been a significant event at every edition of the Olympics, both Ancient and Modern. This is also true for the Gay Games, where Wrestling has been on the program every four years since the very first Games in 1982. Wrestling at the Gay Games has been a force for innovation, introducing women's wrestling in international competition well before the Olympics, and adapting weight classes to allow more competitive opportunities for both men and women wrestlers. It's a sport that is accessible to athletes of all financial status, requiring minimal equipment. The elimination of Wrestling from the Olympics is a blow to a great tradition and an outstanding sport."
Nonetheless, the Federation of Gay Games understands the challenges of adapting the program of a large mutisport event. The FGG struggled for many years in an attempt to adapt its structure of "core sports" and "additional sports". Attempts to devise criteria such as those used by the IOC were unsuccessful, due to lack of data and difficulties in assessing an appropriate weighting for the various criteria.
Marc Naimark (Paris), former FGG Officer for Sport, discussed the solution adopted for the Gay Games: "Prior to 2007, FGG policy made a strong distinction between a list of twenty-odd sports known as 'core sports', and a list of about a dozen 'additional sports.' Any bid for the Gay Games had to include all core sports, with the option of adding a handful of additional sports. This provided a great deal of continuity and ensured that the sports program would respect the FGG's goal of diversity and inclusion of a variety of kinds of athletes and events. Rather that adopting a system such as that of the IOC, in 2007, the FGG approved a new policy that focused on host capacity by loosening requirements. Bidders would be allowed to 'opt out' of a certain number of core sports, and to propose new sports for approval prior to the selection of the host of the Gay Games. This new policy was first implemented for bidding for the 2014 event, and we were very pleased with the results."
Datiche, his successor, presented the changes in policy for the current bidding cycle: "Based on the success of the policy used for 2014, we decided to continue along this path by increasing the number of opt-outs, and by transfering a few more sports to the list of core sports. This is a balance between a totally open program and a sports program based on the 30-year experience of the Gay Games as to what makes for a successful event. For 2018, 29 core sports are offered, with opt-outs for 9, with no more than 36 sports in all. And with each Gay Games, the list of 'additional sports' increases as hosts add sports to our portfolio, like the arrival of sport shooting at Gay Games VIII, giving a total of 19 sports on this secondary list. And as we already announced, six more sports were pre-approved based on requests from bidding organizations, for a total of 54 possible sports in all. "
Former Officer for Sport Bettina Winter (Munich) presents the sports added to the list of core sports during her term of office: "Based on their inclusion in the sports program of many past editions of the Gay Games, we decided to include Table Tennis and DanceSport in the list of core sports. These are events with a large number of participants. Each brings something special to the Gay Games. DanceSport is one of the most emblematic sports of the Games, offering a high-level of competition that cannot be found elsewhere because of the ban on same-sex pairs in most mainstream organizations. It is a sport that is popular both with dancers and with spectators, and offers opportunities for a wide range of levels and ages. This is also true for Table Tennis, which is accessible for able-bodied and disabled athletes, from beginners to top-level players, and with a wide range of body types. In addition we have consistently observed a great spirit at our Table Tennis events, full of camaraderie and mutual support, which are essential values of LGBT sport."
Her successor, Martha Ehrenfeld (San Francisco), discussed the criteria to be used in evaluating bidders' sports programs: "We'll be looking not at who offers the most sports, or indeed, who offers any particular sport, but rather at the entire package. We want bidders to show that they have understood the need for financial viability in terms of number of participants, while at the same time respecting our goals for diversity and balance in terms of the kinds of participants and sports offered. The Gay Games are about sport for all, and the fundamental human right to practice sport, whatever one's gender, abilities, or athletic history. To help ensure this, for the first time we have integrated a formal review of the sports program of short-listed bidders, which we hope will generate very thoughtful planning from our bidding organizations."
Naimark noted that the 2007 FGG policy puts more responsibility in the hands of bidding organizations and hosts: "We feel that our hosts need some flexibility in the scale and scope of the event they host. We definitely understand the challenges faced by the IOC, but are stunned that a sport with such a history in the Olympics will be excluded for the first time. From the point of view of potential hosts, this is a real blow. In particular, if Istanbul is chosen as host for 2020, it will be a real shame that such a sport so popular in Turkey will not be on the program."
As for Gay Games X in 2018, Dennis Sneyers (Chicago), Officer for Site Selection, observed: "We will discover the sports programs proposed by bidding organizations when they submit their bid books at the end of this month. We feel that our system allows bidders to offer sports for which they have the best facilities and the best support staff, so as to ensure that Gay Games X will continue the 30-year tradition of sporting excellence developed by the FGG."
San Francisco
13 February 2013