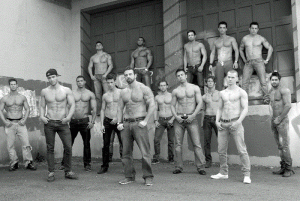 Beginning March 9th
Jake Genesis, Pierre Fitch, Christian Sharp, Rocco Reed, Andrew Justice, Angel Diablo, Kirk Cummings, Donny Wright, Rudolph Schneider, and Sean Cody Rising Star Aiden To Be Among the Many Stars to Make Their ADONIS Debut & Kick Off New Venue In Coming Weeks
ADONIS LOUNGE, which has in four short years become the go-to nightspot for beautiful men and their admirers in NYC, will now open its own venue, at 22 West 39th Street, between 5th and 6th Avenues, beginning Saturday March 9th, when over 30 porn stars, models, dancers, bodybuilders and go-go studs will inaugurate the new spot.  The festivities begin at 9pm every Wednesday and Saturday night, and include Full Stage Show, Full Bar, Lap Dances, and Champagne Rooms. There is a $10 cover charge and never a minimum.
This new improved venue will mark another giant step in the growth of Adonis Lounge since its humble beginnings in hipster Greenpoint Brooklyn: The new space will offer improved facilities, including greater seating options and more space to spend time with your favorite dancer, all in a convenient midtown location, steps from 5th Avenue and Times Square.
Jake Genesis, Pierre Fitch, Christian Sharp, Rocco Reed, Andrew Justice, Angel Diablo, Kirk Cummings, Chris Bines, Donny Wright, Rudolph Schneider, Alex Graham, and Sean Cody rising star Aiden will make their ADONIS debuts and be among the many stars to grace the stages at the new venue in upcoming weeks, along with the return of such ADONIS favorites Marcus Mojo, Jeremy Bilding, Vito Gallo, Mike Buffalari, Zeb Atlas, Braden Charron, Jeremy Walker, and Brad Barnes
Recent evenings at ADONIS LOUNGE have featured such mega porn stars Aden Stone, Apollo Phoenix, Benny G., Blu Kennedy, Billy Heights, Brad Barnes, Braden Charron, Brenden Cage, Cameron Foster, Casey Williams, Christopher Daniels, Cody Miller, Collin Steele, Dev Michaels, Hunter Vance, James Jamesson, Jason Adonis, Jeremy Bilding, Jeremy Walker, Marc Dylan, Marcus Mojo, Marcus Patrick, Michael Hengst, Mike Buffalari, Nick Wolanski, Parker London, Peter Latz, Phillip Aubrey, Riley Price, Rogan Richards, Samuel Colt, Shay, Tate Ryder, Tony Capucci, Trenton Ducati, Tristan Phoenix, Vin Marco, Vito Gallo, and Zeb Atlas, among many others who have graced the stage and lap dance area!



ADONIS is the only place in NYC to see your favorite stars up close and personal!!