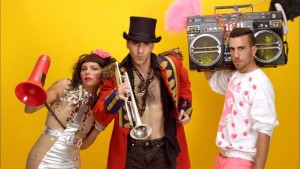 The infectious debut single, "Bom Bom"  from British trio, Sam and the Womp. The song – a potent cocktail of ska, dubstep, brass 'n' bass – became a massive international hit when it shot straight to #1 in the UK this past August. The Technicolor video showcases the exuberant troupe womping up a storm, has racked up 10 MILLION views and counting. Comprised of chief rabble-rouser Sam on the trumpet, DJ Aaron Audio and vocalist/serious hypewoman Lady Oo, the trio is ready to get America womping with their wild, rambunctious sounds.
About Sam and the Womp
"Did somebody order a party?"
That's the mantra of Sam and the Womp, a Technicolor explosion of comic book superheroes and pop art who brew a potent cocktail of ska, dubstep, brass 'n' bass. At the front stands de facto band leader Sam punching out the horn riffs and vocalist Lady Oo. "The idea is to paint life as you'd love it to be," she glows. "This life is a lucid dream and it's in your hands. Make it what you want it to be."
Chief rabble-rouser Sam says, "Love for brass and bass is the focus of the project. Bom Bom is the band at our brassy bombastic best."
"We didn't sit down and decide to form a band and write songs," recalls synths man / DJ Aaron Audio, the collective's enigmatic musical alchemist who, as a teenager, squirrelled himself away in a recording studio with a mass of equipment and didn't emerge again things started to sound right.  "We just decided to have some fun."
Early shows found Sam on the trumpet, Aaron Audio DJing and Lady Oo dancing in a banana outfit. "It wasn't a classic way to start a band, it was just pure improvisation," reminisces Sam, a man whose on and off stage personalities recall the duel life of Clark Kent and Superman. For the record, Sam would rather be thought of as "a feral Elvis with a trumpet."

Sharing an interest in music from a broad spectrum of cultures meant that Sam and the Womp's London home provided the ideal environment for their development. As Lady Oo explains: "London is like a big train station of the world. So many people from so many different places are passing through and they're all looking for the same thing which is something different from what they already know, something open, something more connected. The energy of this place means that you have so many people to create and exchange ideas with."
The band grew a substantial live following playing the festival party circuit with multiple shows at:  Secret Garden Party, Glastonbury, Bestival, Lovebox, Big Chill, Standon Calling etc.  As their reputation grew Sam and the Womp's sound gestated into ever more unpredictable directions. "It's always evolving and changing, whatever we can do to make it insane and fun and different for us," states Aaron Audio. "We like to see how far we can push it."
Sam and the Womp's progression had already seen Lady Oo promoted to vocal duties as well as keyboard, while Aaron Audio moved from DJing to synth bass. For live shows, the core trio are bolstered by a rotating squad of six horn players who had previously played with the likes of Bad Manners and Prince Buster. As Sam says with evident enthusiasm, "They're amazing pedigree musicians. For them, it's a laugh because they play a lot of jazz gigs and they get to join us and cut loose."
"You can call our music a lot of things, but it's essentially just musicians writing songs," affirms Aaron Audio. "I don't think we've worked out exactly what it is, but that's part of the journey and part of the fun. We're not about destruction or politics or anything like that, we're about dreaming about a beautiful reality with love and music."
Sam and the Womp's first single 'Bom Bom' is already winning substantial radio play as well famous fans such as Rizzle Kicks. It stands on the edge of becoming a bona fide hit. Not that the trio are too perturbed by their recent progress. As Sam observes, "The thing we started to do for fun has become the thing that we do seriously, but we're serious about making it fun still."
That's the Sam and the Womp story so far. But it leaves one final mystery. Just what the hell is a womp?
"It's onomatopoeic for the sound of the bass," explains Aaron Audio. "We're all bass addicts."
"The womp is the space between the bass and your face," interjects Sam. And then, as if prompted, the trio burst into life as one: "Embrace the bass!"