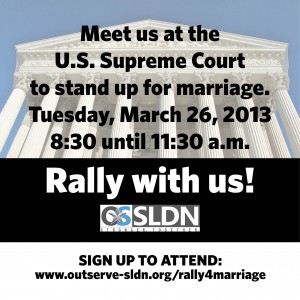 (Washington, D.C.) Former Congressman and former U.S. Navy Three-Star Admiral Joe Sestak today joined with Former Congressman, Army Captain and Iraq War Veteran Patrick Murphy, OutServe-SLDN Executive Director Allyson Robinson, and Staff Sgt. Tracy Johnson in urging the U.S. Supreme Court to end the discriminatory Defense of Marriage Act (DOMA). Thirty military officials and OutServe-SLDN, which represents gay and lesbian servicemembers and veterans, each filed an amicus brief in the United States v. Windsor case challenging DOMA being heard by the U.S. Supreme Court on March 27.
Read the military and defense officials' brief here.
Read the OutServe-SLDN brief here.
"As someone who served in the United States Navy for more than 30 years, I believe DOMA undermines military families and, therefore, eventually erodes military readiness," said former Congressman and former U.S. Navy Three-Star Admiral Joe Sestak. "We have long known that supporting servicemembers' families affects our military's effectiveness, as well as our ability to recruit and retain the most talented fighting force in the world. But DOMA prevents the Pentagon from offering equal benefits and protections to same-sex couples and their families. I believe that DOMA is neither correct nor practical for a military force devoted to defending our freedom and equality and, therefore, that it is unconstitutional."
Although the military has worked to make progress toward equality – namely through former Secretary of Defense Leon Panetta's recent extension of certain benefits to same-sex couples and the repeal of Don't Ask, Don't Tell – DOMA still prevents the military from treating same-sex military couples equally. Because DOMA defines marriage for federal purposes as "between one man and one woman," married same-sex military couples cannot qualify for many protections available to other couples, including health care, housing assistance, primary next of kin status, and survivor benefits.
"The case against DOMA is simple: institutionalized discrimination goes against the very American values that our military force defends every day," said former Congressman Patrick Murphy. "We hurt our service members—gay and straight—and our nation every moment that this law is not overturned."
Staff Sgt. Tracy Johnson is believed to be the first same-sex widow in the U.S. military – though she cannot be officially recognized by the federal government as the wife of her late spouse, Staff Sgt. Donna Johnson, who died last year in a suicide bombing attack in Afghanistan. The challenges Johnson has faced in the aftermath of her wife's death has been amplified by DOMA.
"Although Donna and I were legally married, I was denied the ceremonies, rituals, and spousal survivor's benefits that usually go to widows because Donna and I are both women," said Johnson. "This was not because of any military rule discriminating against same-sex couples bravely serving our country; it was because of DOMA. Every military official I spoke to in the aftermath of Donna's death was caring and compassionate, and regretted they could not treat me the same way they would treat other war widows. I hope that DOMA is overturned so that others will not experience what I did."
OutServe-SLDN and the Center for American Progress (CAP) recently released a report about the ways in which DOMA discriminates against same-sex married military couples, called,"Collateral Damage: How the Defense of Marriage Act Harms the Troops and Undermines the U.S. Military." OutServe-SLDN Executive Director Allyson Robinson highlighted a few of the benefits and protections that same-sex couples in the military are barred from accessing thanks to DOMA.
"The Defense of Marriage Act prevents the military from honoring its promise to its families by essentially nullifying otherwise legal marriages between service members and spouses of the same gender," said Army veteran and OutServe-SLDN Executive Director Allyson Robinson, echoing arguments made in the organization's Supreme Court amicus brief filed in United States v. Windsor. "This is more than just an issue of fairness; it's also an issue of national security. When members of the military put their lives on the line for the security of this nation, they deserve to know their families will be cared for should something happen to them."
Active-duty service members receive 70 percent of their compensation in allowances and benefits, covering housing, healthcare, employment and education, and honoring families of the fallen, but over 100 of these benefits and protections are not extended to same-sex military families.
###
The Respect for Marriage Coalition is a partnership of more than 100 civil rights, faith, health, labor, business, legal, LGBT, student, and women's organizations working together to end the Defense of Marriage Act (DOMA) and grow support for the freedom to marry. The Coalition is co-chaired by Freedom to Marry and the Human Rights Campaign.
OutServe-SLDN is the association of actively serving LGBT military personnel with more than fifty chapters and 6000 members around the world It works to support a professional network of LGBT military personnel and create an environment of respect in the military with regard to sexual orientation and gender identity. It is a non-partisan, non-profit, legal services and policy organization dedicated to bringing about full LGBT equality to America's military and ending all forms of discrimination and harassment of military personnel on the basis of sexual orientation and gender identity. OS-SLDN provides free and direct legal assistance to service members and veterans affected by the repealed "Don't Ask, Don't Tell" law and the prior regulatory ban on open service, as well as those currently serving who may experience harassment or discrimination. For more information, visit www.outserve-sldn.org.