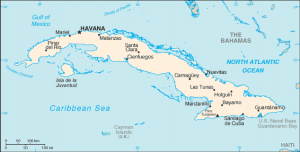 Limited Space Available on Seven-Night Custom Tour Featuring Havana and Cienfuegos
Cuba, the all-but-forbidden country now legally open for Americans, has been attracting a growing group of savvy travelers: those from the LGBT community. From April 14-21, Insight Cuba, the leading operator of licensed, people-to-people travel to Cuba, is offering an exclusive seven-night trip to Havana and Cienfuegos in partnership with luxury gay travel operator Coda International Tours. Limited space is still available.
Cuba's gay culture has expanded notably in recent years, and since U.S. travel restrictions to Cuba were loosened in early 2011 – for just the third time in 50 years, more and more gay travelers are taking advantage of the opportunity to visit the island, with its vibrant arts and music scenes, welcoming locals, and current status as a must-visit hotspot.
"Gay travelers are usually on the cutting edge – they are the first to establish trends, not just follow them; they're going to places before they're flooded with the average tourists," said Jim Smith, founder of Coda International Tours. "Cuba is a very warm and friendly destination and a big draw right now, especially for the gay market."
"We always love crafting custom itineraries for groups with varied interests, and are thrilled to offer this particular program for the LGBT market," said Tom Popper, president of Insight Cuba. "In addition to our signature people-to-people activities fostering touching exchanges with locals, participants will also be able to experience the thriving gay community in Cuba as the country propels towards more democratic ideals."
The custom itinerary begins with five nights in Cuba's colorful capital city of Havana, followed by two nights in the port city of Cienfuegos and a day trip to colonial Trinidad. Highlights include:
Engaging with resident musicians and artists at Callejon de Hamel, a street rife with art displays and public music performances.
Walking through Old Havana, a UNESCO World Heritage site.
Visiting and meeting with Cuban artists in their homes and workshops.
Learning about organic farming at Organopoico Vivero.
Meeting with representatives from CENESEX, an LGBT advocacy program.
Visiting the artist Jose Fustar, dubbed the "Picasso of the Caribbean."
Exchanging ideas at Muraleando community project.
Attending a dance session of Ballet Folklorico de Trinidad.
Special introductory rates begin at $3,995 per person, double occupancy ($4,395 single) and include: accommodations, all meals as outlined in the itinerary, guided activities, Insight Cuba tour leader and Coda representative, U.S. Treasury Department License and Letter of Authorization, entrance fees to scheduled activities, in-country ground transportation and transfers, travel health insurance, emergency medical evacuation, trip cancelation coverage (up to $1,000), Insight Cuba travel handbook, and 24-hour emergency service. International airfare from Miami to Havana, Cuban Tourist Card and Exit fee are additional. Space is limited.
Making Strides in Cuba
Cuba's gay culture has expanded notably in recent years, especially in Havana and Santa Clara. Many gay rights advocates attribute this to the efforts of Mariela Castro Espin, daughter of President Raul Castro, who is widely viewed as a champion for gay, bisexual, and transgender rights in Cuba. A married mother of three, Castro Espin has advocated for equality in both Cuba and the United States, and Insight Cuba/Coda International Tour's upcoming trip to Cuba will include a visit to the National Center for Sex Education, of which Castro is director.
In May 2008, the country's state-television network transmitted Brokeback Mountain on TV, the first time a gay film has been broadcast in Cuba, and in June of the same year, Cuba authorized sex-change operations. In addition, a growing topic of discussion has been the legalization of gay marriage in Cuba.
For details about this departure visit Coda International Tours, http://www.coda-tours.com/gaytours/itineraries/cuba/cuba.html, or call 1-888-677-2632. For more information on other Insight Cuba travel programs, visit www.insightcuba.com or call 1-800-450-CUBA. To stay connected with Insight Cuba, follow @insightcuba or 'like' the Insight Cuba Facebook Page.
About Insight Cuba
Insight Cuba is the leading provider and pioneer in legal people-to-people travel for Americans to Cuba. Since its inception in 2000, the organization has sent more than 6,000 participants on 350 tours and crafted over 100 custom group programs.  When travel to Cuba was reauthorized for all Americans in 2011, this not-for-profit company (a division of Cross-Cultural Solutions) was the first to bring American travelers back to Cuba. Six programs with 100 departures are scheduled through September 2013 featuring original experiences that put American visitors in direct touch with Cuban people and culture.
SOURCE Insight Cuba