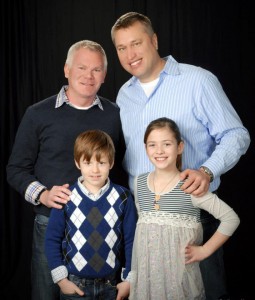 The Illinois General Assembly is set to consider and vote on Illinois Senate Bill 10, the Marriage Fairness Act. Forensicon's President and CEO Lee Neubecker stated, "As a business owner and CEO of a Chicago based technology firm, I strongly urge the legislature to vote yes on legalizing same sex marriage in Illinois. This measure if passed will make it easier for the region to recruit technology companies and diverse talent to the Chicagoland area. This sends a clear message that our region is tolerant, fair, and values diversity."
"Please listen to the importance of the passage of this act as written through the eyes of an adopted child by reading the letter my daughter wrote.  She asked me to share her letter with those inclined to vote against the measure." responded Neubecker.
'Why Illinois should vote to allow my two dads to get married.'
– By Braiden Neubecker
"Love is important! It doesn't matter who people love, as long as they are happy. Everyone should have the right to marry who he or she wants. You may not like two men being married, but for them, it's normal. My two dads should be able to be married and have the same rights as any married couple. How would you feel if you couldn't marry someone just because the government said you weren't allowed to.
If I loved someone and wasn't allowed to marry them, I would be really sad. My family has taught me that even if you don't agree with someone, you should still be kind and respectful. The government should too. Also, my church tells me that you should treat other people the way you want to be treated.
Before I lived with my two dads, my life was horrible. My old family never treated me well. They wouldn't stand up for me. If my foster sister fought with me, my old mom would just sit there and watch me get hurt, so I would have to fight back. Each time I was at foster home, the foster parents promised me they would keep me safe and treat my brother and I equally.
But they always broke their promise. I moved five times until my dad and daddy found me. They also promised that they would always love me and keep me safe and they would treat me equal to my brother. I was 4 when I met them. Now I am 10 and they have kept their promises.
They do so much for me. They never hurt me or my brother. I feel so safe. I believe I can do anything with my two dads. Would there be any purpose to ban the marriage of two men or two women when they can treat children the same or even better than other couples."
SOURCE Lee Neubecker