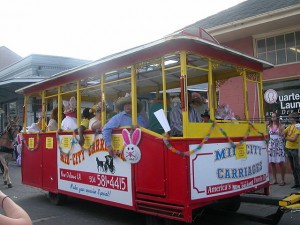 The 14th annual Gay Easter Parade is Sunday, March 31 led by Easter Grand Marshals XIV Tommy Elias and Starr Daniels. This year the colorful parade will bring to the streets some 30 carriages, wagons and trolleys; 2 bands; 3 walking groups; and some 15 trucks and cars. The parade is now closed to further entries due to parade permit and insurance requirements. The parade showcases the fashion and creativity of the entire GLBT community with gentlemen in summer suits/tux with hats, and ladies in Easter suits/dresses with Easter hats.
The afternoon line-up starts at Michael's On The Park, 834 N. Rampart with: 2:30-4pm Pre-Parade Party & Buffet, 3-4pm Parade Check-in with Parade Line-up Chair Steve Patrick at front door, 4-4:30pm Board Carriages, Vehicle Line-up, 4:30pm 14th Gay Easter Parade rolls; ending at 700 Club, 700 Burgundy with 6pm Post-Parade Party & Buffet.
The parade begins at 4:30pm following its traditional route through the French Quarter beginning at N. Rampart and St. Ann, down St. Ann to Bourbon, left on Bourbon to Esplanade, right on Esplanade to Royal, right on Royal to St. Louis, right on St. Louis to N. Rampart. right on N. Rampart to Toulouse, right on Toulouse to Burgundy, left on Burgundy to St. Peter ending at St. Peter.
The parade rolls rain or shine. There are no cancellations or refunds.
The parade minus expenses benefits Food For Friends (FFF), a program of the NO/AIDS Task Force and has been supplying groceries and home delivered meals to HIV infected and affected individuals in the greater New Orleans area for over 15 years with the NO/AIDS Task Force serving our community for over 26 years. Over 600 meals a week are currently being delivered to clients who are home bound or otherwise unable to prepare their own meals or shop. Over 300 clients receive pantry items per month (last year's Gay Easter Parade's $36,252 donation allowed 100 new pantry clients for the year). Over 42,000 meals were delivered through the Home Delivered Meals Program in 2012. Presently volunteers deliver meals every Tuesday. Over the past eleven years, the parade has generated $147,439 for charity.
The Sponsors of the Gay Easter Parade play an integral part to the success of this venture.
Presented by Ambush Mag, sponsors include:
Platinum: Friday Night Before Mardi Gras, Oz New Orleans;
Gold: Stuart Nettles & EGM IX Safonda Peters, EGM XII Gary Vandeventer, Todd J. Blauvelt, Krewe of Amon-Ra, Queen Amon-Ra XLVIII Deja Deja-Vue' & Jim May;
Silver: EGM XII Elizabeth Bouvier, EGM XIII Darwin Reed & EGM VII Opal Masters, EGM VIII Rona Conners, Dwain Hertz/Al Dugas & Gene Theriot, EGM XIII Rhonda & David Roget, EGM VIII Michael Elias & Jay Sewell/The Corner Pocket, Frankie Fierce & King Cake Queen XX Dusty Debris, Glen Kahrman & Noel Twilbeck, Thomas C. Schoonenberg, Bobby Vallecillo & Rene Leaumont, Michael Cookmeyer/Michael's On The Park, Wood Enterprises, Jeffrey Palmquist & Coca Mesa, Misael Rubio/Quartermaster: The Nellie Deli, EGM IV Electra City & EGM XI Tittie Toulouse;
Bronze: EGM XIV Starr Daniels & Justin Moffatt, EGM X Tony Leggio, Charlotte Sullivan, EGM VII Orlando Aloe/Society Page, Charles Jenkins/Krewe of Ursus, EGM V Princesse Stephaney, Krewe of Satyricon, EGM II Larry Bagneris, Frank & Pete Abbruscato, National Association of Caterers & Events (NACE), Bootsie DeVille, Roy Smith & Nick Olivares, Ranzy Montet & Creig Istre, Michael Sullivan, Michael Sullivan, Michael Durocher, Ken Marino/Fabulous Flowers LLC, Bebe & Chris Scarpinato-Linwood, Frank Perez/Crescent City Tour Booking Agency, Glenn O'Berry & Roger Copehaver;
Venue/In-Kind: 700 Club, 4 Seasons, Cutter's, The Double Play, Larry Graham, Michael's On The Park, Oz.
You can make an added difference by becoming a sponsor today. Get your sponsorship form at GayEasterParade.COM or at 828-A Bourbon Street. For more info call 504.522.8049.
Past Grand Marshals include EGMs I Rip and Marsha Naquin-Delain, II Larry Bagneris and the late Miss Do Moreland, III Timm Holt and Teryl-Lynn Foxx, IV George Simons and Electra City, V Brett Messmer and Princesse Stephaney, VI James Swire and Lisa Beaumann, VII the late Doc Reed and Opal Masters, VIII Michael Elias and Rona Conners, IX Orlando Aloe and Safonda Peters, X Tony Leggio and the late Marcy Marcell, XI Chuck Turner and Tittie Toulouse, XII Gary Vandeventer and Elizabeth Bouvier, and XIII Darwin Reed and Rhonda Roget.