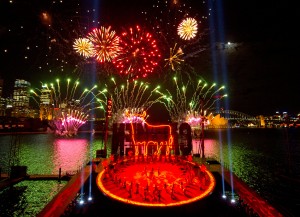 Fireworks lit up the Sydney skyline above an astonishing opera stage last night, as part of Opera Australia's sensational new outdoor production of 'Carmen'!
This glittering new production brings all the drama of the world's best-loved opera to an unrivalled watertop stage, with the iconic Sydney skyline as its backdrop. Handa Opera on Sydney Harbour: Carmen, running for three weeks only from 22 March – 12 April.
A huge stage measuring 32m x 24m resembles a blood-stained bullfighting ring, backed by six red Hollywood-style letters spelling out CARMEN, measuring 9m high and 25m wide – impossible to miss as they beam across Sydney Harbour.
A cast of 154 performers had four weeks to rehearse, and only seven days on the steeply raked stage. Opera Australia's costume department has produced 284 costumes. Two cranes, each 26m high, move giant props on and off the stage throughout the production, including a life-sized tank and a truck.
Lyndon Terracini, Artistic Director of Opera Australia said, "This hotly-anticipated event of ours has everyone talking. From around the harbour's edge in Sydney, you can now see the bright lights and letters of 'CARMEN.'
"None of this would be possible without the generous support of Dr Handa and the International Foundation of Arts and Culture. We also extend our thanks to Destination NSW, with whom we are working to attract audiences from interstate and across the globe to Australia's major events capital, Sydney, to experience this spectacular and unique opera event."
Carmen is directed by Gale Edwards who brings this Carmen forward to mid 20th century Spain. Award-winning set designer Brian Thomson and costume designer, Julie Lynch, are responsible for the show-stopping inspired by 1950s Hollywood glamour. John Rayment's lighting design is a spectacle of colour and movement, and Kelley Abbey's choreography makes the dancing a standout!
Starring in this production are internationally-renowned mezzo-sopranos Rinat Shaham and Milijana Nikolic who alternate the role of Carmen. International tenors, Dmtryo Popov and Adam Diegel share the role of Don Jose and Andrew Jones and James Clayton alternate as the Toreador, Escamillo.
WATCH: Video and Photo Galleries: http://www.operaonsydneyharbour.com.au/sights-and-sounds
TICKETS: From $79
BOOKINGS: Opera Australia: +61 2 9318 8200 / www.operaonsydneyharbour.com.au
SOURCE Opera Australia