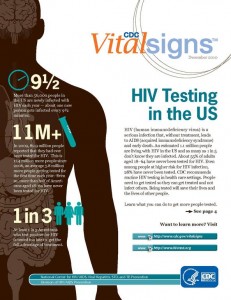 Since the first case of what would become known as AIDS was reported in the United States 32 years ago, the need for HIV testing is as great as ever, Home Access Health Corporation, the leading manufacturer of at-home laboratory test services, said today.
National HIV Testing Day is June 27, and the day serves as an important reminder of the personal responsibility everyone has to know their status, said Mary Vogt, president of Home Access Health.  Approximately 50,000 new cases of HIV will be reported in the U.S. this year; 1.2 million Americans carry the disease; and 20 percent of them do not know they are infected, according to the Centers for Disease Control and Prevention (CDC).
"Testing can save lives," Vogt said.  "Knowing one's HIV status is critical to preventing the transmission of infection, and although there is no cure, medications can be effective in fighting HIV and its complications.  Too many Americans are simply unaware they are carrying the disease and transmitting it to others. It doesn't have to be this way.  Thankfully, a range of testing options is readily available, either through clinics or anonymous at-home testing."
While two-thirds of infections affect men, women account for almost 24 percent of new cases.  Those at risk owe it to themselves to know their HIV status; early detection can save lives, Vogt said.
Many at-risk individuals avoid testing because of concerns about stigmas associated with HIV and AIDS. Yet the Home Access® Express HIV-1 Test System provides complete anonymity around testing and the reporting of results.  The Home Access test provides confirmed positive results, ready access to bi-lingual, professional HIV counselors, all within a single day.  The Test System, which uses self-collected fingerstick blood, is greater than 99.9 percent accurate.  The dried blood sample is sent via overnight delivery to the certified Home Access laboratory where it is evaluated for antibodies to the HIV-1 virus.  Results are available the day the sample is received by the testing lab, by telephone, using the anonymous 1-800 number included with the test and referencing the unique PIN associated with the blood sample.
The Food and Drug Administration approved the Home Access test in 1996, and it is available through Walgreens, CVS and various online retailers, including Drugstore.com, and directly from Home Access (www.homeaccess.com).
At-home test users should be aware there is a period of time – the "window" period – during which individuals who are positive will still test negative.  Blood-based HIV tests have a shorter window period than oral fluid tests.  The CDC says the "window" period can range from four to six weeks up to six months.  Persons who believe they have been exposed to HIV should undertake repeat testing.
Home Access Health sponsors a website providing vital facts about all FDA-approved over-the-counter HIV tests currently on the market. www.HIVhometestfacts.com provides a comparison of the products, offers answers to frequently asked questions, explains how the tests work and supplies additional resources on HIV/AIDS education and support.
SOURCE  Home Access Health Corporation