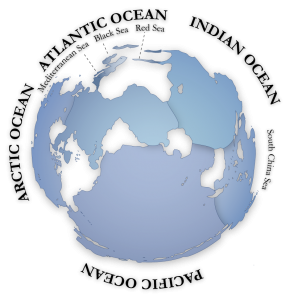 In May 2008 the Advocate published a special "Green" issue (#1007) which featured the nation's top LGBT environmental "movers and shakers." One of them was Dustin Cranor, just 25 but already communications manager for the environmental group Oceana. Five years later, Cranor continues the fight for the world's oceans and the creatures who live there, only with a more imposing title. On May 22 Cranor was promoted to Communications Director for U.S. Campaigns at Oceana. Cranor, we are told, "is responsible for spearheading the public messaging for Oceana's North American campaigns focused on seafood fraud, climate and energy and responsible fishing, which includes efforts to protect sharks, sea turtles and corals."
"I was born and raised on a small pig farm in Southeast Kansas," Cranor recalls. "And while I've always cared about the well-being of animals, it was my love for public relations that brought me to Oceana in July 2007. After graduating from the University of Arkansas, I moved to Washington, D.C. where I worked my way up at TheWadeGroup, Inc., a small boutique PR firm. Oceana happened to be one of our clients and the organization quickly asked me to come on full-time" as communications manager. Cranor admits that "when I first moved to Washington, I was hesitant about being openly gay. However, I quickly found out that my employers were much more interested in my skill-set than my sexual orientation. While it may sound corny, I've always wanted to make the world a better place. But I don't think it's because I'm gay. It's just who I am."
What is Oceana? According to Cranor, "Oceana is the largest international advocacy group working solely to protect the world's oceans. Oceana wins policy victories for the oceans using science-based campaigns. Since 2001, Oceana has protected more than 1.2 million square miles of ocean and innumerable sea turtles, sharks, dolphins and other sea creatures. More than 550,000 supporters have already joined Oceana. Global in scope, Oceana has offices in North, South and Central America and Europe." Before Oceana, less than ½ of 1% of all resources spent by environmental nonprofit groups in the United States went to ocean advocacy. Oceana, later joined by the Ocean Law Project and the American Oceans Campaign, deals with the problem that threatens our living oceans. And what is that problem? Cranor puts it in a nutshell: "We are simply taking too many fish out of the water, while putting too many pollutants in."
What is Oceana doing about it? "Oceana is currently working on a campaign to Stop Seafood Fraud for when you get a different fish than the one you paid for, which can hurt our wallets, our health and our oceans. Oceana is also working to stop seismic airgun testing, which is currently being proposed along the East Coast to look for oil and gas deposits deep below the ocean floor. The government's own estimates show that as many as 138,000 whales and dolphins would be injured from this testing, which the sound alone is 100,000 times more intense than a jet engine." Just in the past year, Oceana helped stop offshore drilling in Belize, advanced protections for great white whales in California, banned wild sea trout fishing in the Baltic Sea's Gulf of Finland and got the European Union to ban shark finning and curb overfishing.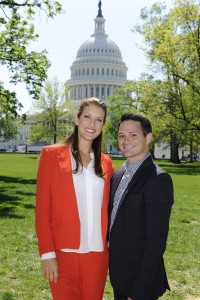 As Oceana's Communications Director, Cranor "oversees all communications efforts for Oceana's U.S. campaigns. This includes everything from developing and executing strategic communications plans to securing stories about our campaigns in media outlets around the globe." Cranor organizes events that involve celebrities like Kate Walsh and Ted Danson and draw media attention for Oceana. He has worked with the National Aquarium in Washington, D.C., now sadly in need of a new home. "Oceana has had a long partnership with National Aquarium. We believe that the Aquarium plays an important role in helping to educate the public about our oceans and their inhabitants, including the threats they face and what can be done to help protect them."
One of Cranor's most popular projects is managing Oceana's partnership with the Discovery Channel's annual Shark Week. According to Cranor, "Shark Week provides the perfect opportunity for viewers to get involved in shark conservation. Since our partnership with Shark Week began, we have seen dedicated programing focused on shark science and conservation. As top predators, sharks are needed to maintain healthy oceans for future generations. Unfortunately, human activities, including shark finning, are driving shark populations to dangerously low levels." Shark Week returns to the Discovery Channel on Sunday, August 4.
In 2010, Dustin Cranor moved to Fort Lauderdale, where he works to increase Oceana's presence in this region. "Living in South Florida has made me appreciate my job even more," Cranor tells me. "I am very lucky to enjoy the same ocean that I work daily to protect. Oceana is currently working to protect Florida's East Coast from seismic airgun testing. We are also continuing to work to protect sharks and sea turtles as well as to stop the mislabeling of seafood in the U.S." Now a South Floridian, Cranor encourages SFGN readers to get involved in the fight to save the oceans and its inhabitants: "Oceana is a wonderful organization that truly does great work to help protect our oceans. I can honestly say that I love my job and I try to never take that for granted. Become an Oceana supporter today at www.oceana.org."
Jesse's Journal
by Jesse Monteagudo