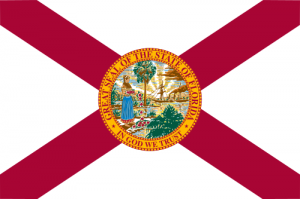 While the world was engrossed in the George Zimmerman trial in Sanford, two other cases showcased the vagaries of Florida law. In Tampa retired Army Colonel Ralph Wald, a 70-year old Vietnam War veteran, was found not guilty of killing 32-year old Walter Conley. Wald invoked Florida's "Stand Your Ground" law to justify shooting Conley, whom Wald caught having sex with Wald's 41-year old wife, Joanna Lynn Flores. (Wald said he thought Conley was raping his wife.) "This is a military man," Wald's attorney Joe Episcopo said. Wald did "what you do with the enemy … you take your gun out and kill the enemy." For her part, Flores was "elated" that her husband was acquitted: "Because my husband puts me first, he's taking me to Waffle House."
Meanwhile, while George Zimmerman and Ralph Wald got away with murder, Marissa Alexander of Jacksonville was sentenced to 20 years in prison for firing a warning shot against her abusive husband. Alexander argued that the "Stand Your Ground" law should apply to her because she was defending herself. However, a judge denied a motion to grant her immunity and she was convicted of aggravated assault with a deadly weapon. Under Florida's mandatory minimum sentencing requirement, Alexander was given 20 years in prison, a sentence even the judge thought was excessive. The fact that Alexander is Black had nothing to do with it (eyes rolling).
The Alexander, Wald and Zimmerman cases seem to showcase the ways that racism influences Florida's legal system. They are also indicative of a political system that likes gun owners and military veterans but is tough against convicted criminals which, in Florida, are largely Black or Latino. The fact that all three cases got so much attention is due to the fact that whatever happens in Florida gets attention, and not just in Florida. Since the year 2000, when Elian Gonzalez split South Florida and faulty voting cards held up a presidential election, Florida has replaced California as the crazy capital of the USA. It is not for nothing that the Sunshine State is known as "FloriDUH."
The crimes, follies and misfortunes of Florida's 19 million people are often the stuff that make newspaper stories and online blogs. South Florida's Sun-Sentinel even has a blog, "FloriDUH" (www.sun-sentinel.com/news/strange/floriduh-blog), that showcases all the "weird, wacky, strange news from the Sunshine State." Just a glance at the headlines there give us some indication as to the perversity of some Floridians: "Registered sex predator busted again for allegedly having sex with a dog;" "Man behind bars after allegedly snoozing on [someone else's] car;" "Cops: Couple broke into school to have sex" and so on – stories that feature sex, nudity, drugs, guns and animals are quite common on this blog.
Craig Pittman, writing in slate.com (another blog fond of weird Florida stories), lists some of the ingredients that make a story a weird Florida story: unusual weapons, nudity, animals (preferably alligators), sex, sex workers, mistaken identities and Disney World. We all heard about Rudy Eugene, who after dropping his clothes on the MacArthur Causeway chewed off part of Ronald Poppo's face before the police put a stop to it. This story has uniquely Florida qualities: a man of Haitian descent (Eugene), a homeless man from New York (Poppo), nudity, the possibility of drugs (never proven), and cannibalism. More recently, when Pedro Vargas went nuts and killed six people in his apartment building, the press called it a Florida story, not because of the number of victims but because Vargas lived in Hialeah, a largely-working class, mostly-Hispanic community west of Miami that the blogosphere has turned into an ethnic joke. (It even has its own blog – http://sweethomehialeah.blogspot.com). Vargas himself added to the Florida-ness of this tragic story when, before he went on his rampage, he told a 911 dispatcher that others were "doing witchcraft (brujeria) and things to me." Santeria, of course, is a very Florida religion, as is Scientology.
Why is Florida so weird? Weirdness, of course, is in the eye of the beholder. But this has not stopped pundits and journalists from trying to analyze the Sunshine State. Writing for salon.com, Steven Rosenfeld offered five "theories why Florida is so dysfunctional": (1) Florida cops don't keep quiet; (2) The curious mix of people drawn there; (3) The law – if you can call it that; (4) The land and the weather; and (5) "The media like Florida-bashing." Slate's Pittman adds to that list this State's unique history, 'the promise of laissez faire living" and "the pervasive possibility of bad hookups." Though much has been written about the influence of firearms in "the Gunshine State," Florida's car culture is just as deadly, since cars often heighten their owners' sense of power and lower their inhibitions. Florida cities like Miami often lead the lists of road rage incidents and hit-and-run accidents, events that often lead to death or serious injury. Of course, in the case of drive-by shootings, car and guns join forces to provide a deadly mix that is very Floridian.
Florida has a unique variety of people who come here in search of paradise but who stay because of the weather and low taxes. Though there is more political corruption in Chicago, New Jersey and New Orleans, our corrupt politicians grab our attention because they are different. Only Florida could give us Governor Rick Scott, whose campaign expenses came mostly from his own well-stocked pockets. Most Floridians, like Scott, are immigrants from other states or countries – even the Native American Seminoles and Miccosukees come from somewhere else – and weird people seem weirder when they come here from New York, the West Indies, or Russia. But it is this heady mix that makes Florida the third largest state in the Union (after California and Texas), and different from other southern states. I have lived in Florida for almost 50 years, and would not live anywhere else.
Speaking of Florida attractions, Orlando's Parliament House just celebrated it 38th anniversary. Back in 2010 the P-House faced foreclosure, and we worried that this great gay resort and entertainment center would have to close. Happily, the P-House survived that crisis and continues to flourish. I recently spent a few days there, and I am happy to report that this Florida gem is alive and well,"balcony bingo" and all. After 38 years, the Parliament House remains uniquely gay and uniquely Floridian, and I would not have it any other way.
Jesse's Journal
by Jesse Monteagudo